By: Kenny and Ursula
Our second full day in Beijing seemed to be very promising—Ming Tombs, Sacred Way, Great Wall of China, and Peking Duck all in one day!
Our first stop was The Ming Tomb Changling as opposed to the Great Wall which is usually scheduled first on tour itineraries. Papa Sheehan made sure our tour guide Lisa made that itinerary change so that we would visit those touristy destinations during their less busy times. Before entering one of the 13 Ming Tombs, Lisa gave us an explanation as to their geographical placement; the Ming Tombs were built according to good feng shui with mountains behind them and a river flowing in front. We had an hour to explore the Ming Tomb, so we slowly explored all the structures that were placed before the burial ground where one of the Ming emperors was buried. Unfortunately, we could not actually get close to the burial site since the Chinese government decided to place fences around it. That being said, we did get to climb a tower that gave us an unobstructed view of the entire tomb site.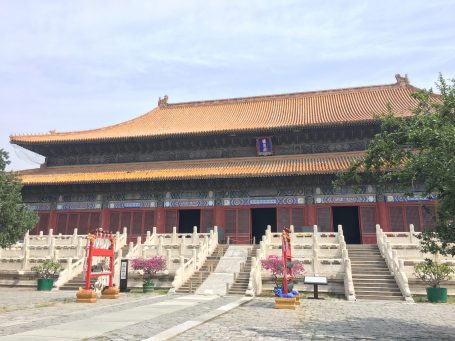 The second destination was the Sacred Way. This path was decorated with statues of guards, scholars, and different animals on both sides, and it extended for approximately one kilometer (0.621371 for people in the Miles club). Walking through the Sacred Way was a good way to channel our inner chi and mentally prepare ourselves for the afternoon hike at the Great Wall. It also served as a nice spot for people to get candid shots for their Instagram accounts.
After a quick lunch break, we were finally ready to take on The Great Wall of China. Papa Sheehan likes taking his Global East Asia students every year to a very steep section of the Great Wall called Juyongguan. The good thing about having a challenging section of the wall is that fewer tourists crowd the narrow steps which makes the hike a lot more enjoyable. On the other hand, most human beings who hike to the top will wake up with sore calves the following morning. In all seriousness, hiking the Great Wall was truly an amazing and humbling experience. Don't mean to brag, but this year's class broke the record of student percentage that climbed to the top with a whopping 90%!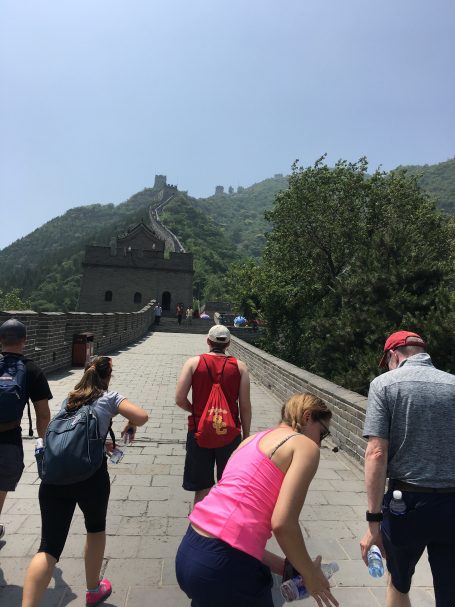 To wrap up our touristy day, Papa Sheehan took us to eat Peking duck for dinner. The dinner was extra special because we got to celebrate Michael and Ursula's birthdays! Needless to say, after our special dinner everyone went back to the hotel and slept till the next morning.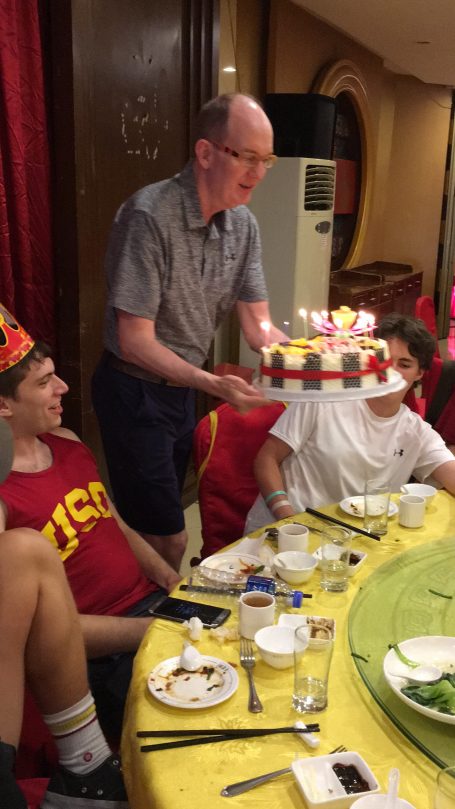 We created our own schedule on Thursday with fieldwork and lunch with our Capital Normal students followed by a trip to Silk Street and dinner. Team Little Mermaids went to a fantastic noodles place for Ursula's birthday (since long noodles represent a long life). After lunch, they took a bus to see the Beijing Film Academy. Instead of arriving at the school, they found themselves at an abandoned film set used during the Communist Era. Meanwhile, Team Huami met up with a new Capital Normal student to eat traditional Beijing food. Then they visited Suning, the largest retailer in China, to check out their smartphone selection. From Suning, they went to an OPPO store. Team PEBs walked around with their students taking pictures of pharmacies and successfully explained the concept of a punch buggy. The Capital Normal students took them to some really yummy Chinese fast food. Team Soybean went to another mall to visit KFC and McDonalds and then had a very authentic snack food lunch as a place with nostalgic decorations. After we finished out field work we regrouped at Silk Street to practice our bargaining skills at the infamous fake goods market.
Early the next morning we piled onto the bus to take us to the train station. The 2 ½ hour high speed train ride flew by given most of us slept at least part of the way. When we arrived in Hebi, our new tour guide, Johnson, took us to the hotel to check in and eat lunch. The hotel was quite an experience from the excessive number of plastic chandeliers to curtain-less, bathtub-less showers. After lunch, we went to the main shopping area. It soon became clear foreigners do not frequently visit Hebi, given the number of stares and photo requests we received. After completing our fieldwork which included visiting bathrooms with "personality," waking sleeping employees, and a trip to Walmart, we reconvened at a local coffee shop for a game of cards. From there we decided to go to the arcade at the top of the mall. One of the highlights from the trip to the arcade was when a man at the arcade decided to show us how Dance Dance Revolution should be done by getting a near perfect score after dancing with arms and gestures and everything. Being tired out and hungry, we went to have dinner at the food court. The food court had tons of choices. We got noodles, soups, dumplings and flat bread. After a cheap, filling, and delicious meal we decided to call it a night and headed back to the hotel for a relaxed night in.