July 1, 2014
June 30, 2014
June 24, 2014
June 5, 2014
June 27, 2013
June 25, 2013
June 24, 2013
June 18, 2012
June 12, 2012
June 4, 2012
By Janet Lee (李洁) and Alan Wong (黄飞仁)
Returning from Hangzhou and Suzhou, we were given the weekend to recuperate, study, and explore on our own. Many students made extensive use of Shanghai's well-designed public transit system, taking the subway to bypass Shanghai's street-level traffic. Growing more accustomed with our surroundings, we have thus far managed to take care of laundry, food, and drink, among other logistical issues, and have been fortunate enough to have pleasant weather thus far (for the most part, some rain!).
In the Classroom (上海上课)
Studying abroad in Shanghai certainly entails studying – while given ample opportunity to explore Shanghai and have out-of-the-classroom experiences, EASC 360 is an intense course that is not to be taken lightly! In order to contextualize our experiences, we were given 'Quick and Dirty' guides to a number of topics – globalization, historical inquiry, and communism, among others.
The historical context given by class lectures has enriched our day-to-day activities in Shanghai, while also providing us with a foundation to build our papers and other assignments upon. For example, we could compare our experience in 21st century Shanghai to the advertising campaigns of the British American Tobacco company during the 19th century. Visiting various commercial centers, we see are able to more critically analyze the way familiar products to many Americans are being marketed to the Shanghai public.
One important topic in our class is the classification of "food drugs." Why is caffeine (a stimulant), in the form of coffee, tea, or energy drinks, a socially accepted food drug while many other potent substances are not? Walking through the streets of Shanghai, we were able to see firsthand the prominence of many items, once regarded as commodities, that are now used daily by many people.
Our Chinese language instruction sessions have also added flavor to our time here, literally giving us new access to many otherwise inaccessible foods, drinks, and places. But more importantly, it has reminded us of our position as ambassadors of USC (and the United States).
It has been both challenging and rewarding to switch the role of "native" and "foreigner" we are accustomed to adopt at times in the United States. EASC 360 students arrived in Shanghai with a range of abilities in Mandarin Chinese, and likewise have been met with various expectations from the people here. While it is usually not difficult for people here to tell that we are not Shanghai residents, many people are not used to the concept of "American Born Chinese." Likewise, since many Westerners make no effort to learn to speak any Mandarin Chinese, some people here have expressed surprise at the competency of our definitely-not-Chinese-looking-students' initiative to use and practice a new language. Many residents here have been very kind and patient sorting through our linguistic and cultural differences in making both purchases and conversation.
Shanghai Zoo (上海动物园)
A number of students visited the Shanghai Zoo to see the world-famous Chinese pandas, among other animals. We were surprised to find the well-publicized Giant Panda (大猫熊) as one of the less exciting exhibits of the zoo's many attractions. One of my personal favorites, for example, was the "Lesser Panda" (小猫熊), or "Red Panda," our more familiar panda's less-known cousin.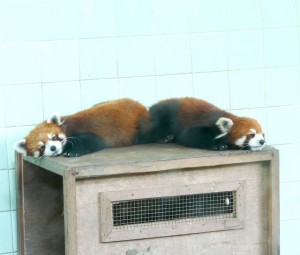 As with many other spaces in China, the Shanghai Zoo was designed as a place for families to enjoy together. Zoo visitors were a diverse lot. There were, of course, many children, but also young couples, older people, groups of friends, photography enthusiasts, foreign students, etc.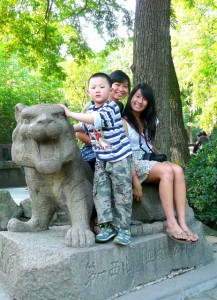 While there were a number of signs prohibiting guests from feeding the animals, we were astonished to find a large amount of unauthorized interaction between guests and zoo animals. Guests would hand feed monkeys, toss fruit into the mouth of bears, and attempt to aggravate animals to get their attention. Information was posted about why such practices are harmful, but these did not deter many guests from breaking these relatively unenforced rules.
All in all, the Shanghai zoo had a far more "public" feel than American zoos. While efforts were made to emphasize education, conservation, and proper interaction between guests and zoo animals, these, like traffic lights here, served more as "suggestions" than as strict guidelines. Nevertheless, the zoo was an interesting, affordable, and exciting experience.
All the Single Ladies!
After a mini shopping expedition around People's Square (人民广场), a couple of us explored our way into the People's Park (人民公园) expecting to have a quiet stroll in the middle of the bustling city. However, to our surprise, the park was filled with people with signs and posters, all written in Chinese. Some posters even had pictures clipped on them. Because of our limited Chinese reading ability, we could only make out that there were people's birthdates and basic information written on these signs. Initially, we thought it was some sort of somber occasion; maybe they were mourning the death of lost love ones. However, upon closer inspection, we noticed everyone, other than ourselves, was laughing and chatting jovially. After asking some middle age ladies what was going on, we discovered that it was, in fact, a Matchmaking Market! Every weekend, parents and grandparents of bachelors and bachelorettes set up their own postings in the public park as a way to find potential spouses for their children. Coming from a world of OkCupid and Match.com, we were both shocked and amused by this approach to courtship, one so heavily influenced by family, which is deeply entrenched in Chinese culture.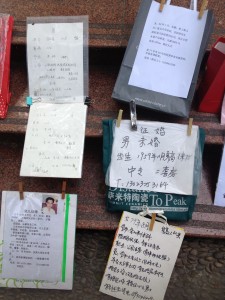 Dining in China
Family style is one of the best ways to dine in China. It eliminates that twinge of jealousy that we often get when our friend's entrée is noticeably tastier looking than our own. With family style, no one feels left out because every dish is fair game. To make things even better, at the end of the meal, the bill is easy to split because there are no taxes or tips to take into account.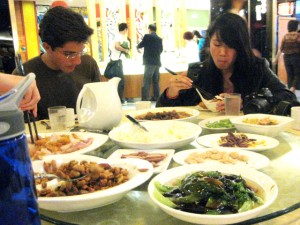 The prices for food at typical street-side pedestrian mall restaurants are more than reasonable. 10 yuan (~ $1.60) could buy a nice bowl of beef noodle soup, 20 yuan (~$3.20) for a Korean Kimchi Fried Rice, and a Tapioca Milk Tea might set you back 10 yuan (~$1.60). Although dining with friends around a round table in a restaurant is lots of fun, we can't forget the deliciousness that is late night street carts. You can have anything from spicy pork skewers to fried rice. Although the policy is to eat at your own risk, sometimes food seems to taste better when it's made on a cart. From the lack of tipping to the late night street food, our experience with Chinese eating culture has been an overwhelmingly positive one.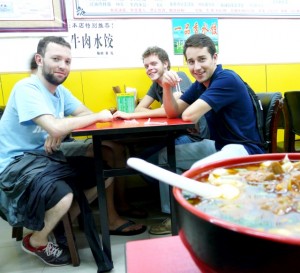 Older Posts »