May 30, 2012
 By Cynthia Yang and Thomas Armstrong
May 25th
Wednesday morning we left the "city above the sea" for the provincial capital of Suzhou. About 50km outside of Shanghai, rows of fields replaced the endless expanse of skyscrapers. But about two hours later, we were back to the familiar landscape of high-rise apartments buildings. We stopped in a government-reconstructed village in older Suzhou to grab lunch. After passing all the American franchises like KFC and McDonalds, we walked into some of the side streets to check out the local food. None of the street food looked appetizing so we went to a local favorite. Ordering was a bit of a struggle because customers are supposed to write down their orders on a slip of paper and then pay for those dishes, but none of us knew enough Chinese to read the menu by ourselves or write down anything. The waiter laughed at our foreignness but then kindly helped us out by taking our order. We ordered traditional beef noodles and dumplings called shu mai, which were both delicious.
While Cynthia and most of the group split off, I went to a local restaurant with Luman and Professor Sheehan. Luman was heart-set on ordering her favorite Suzhou dish: watermelon chicken soup. Naturally, the kitchen wasn't serving that dish. But Luman still ordered a delicious meal of sweet lotus root, roast chicken, wonton soup, and other tasty snacks. After lunch, the three of us explored the less touristy neighborhoods, conversing with locals and stumbling upon a several hundred year old well still in use. We met up with the group and headed off to one of Suzhou's most famous garden (the Humble Administrator's Garden), and the provincial art museum designed by I.M. Pei.
The garden was scattered with pavilions, each displaying a different room from a specific era. My favorite was the "House of Sweet Smelling Rice" that showed a traditional dining area. Our tour guide David told us that one of the bridges we walked over was designed to be crooked because, according to Chinese legend, the devil could only walk straight. The pathways of the garden were also designed with Chinese symbols of luck, such as the bat. According to David, the "Humble Administrator" had ironically designed part of his pathways to be in a stacked arrow formation resembling the Chinese character for people, "ren," because he wanted to literally step on the people and show his elite status.
At the art museum, we looked at porcelain pieces, jade sculptures, and snuff bottles that corresponded with our study of the porcelain industry and opium trade in China. One of the jade pieces was meticulously carved out of an elephant tusk, with dozens of figures created out of the huge piece of ivory. This served as a reminder of China's influence and connectivity with the world, even hundreds of years ago. Post-museum, we checked into the hotel and ate a traditional Chinese dinner at the hotel restaurant. The night included a fine performance of "Hey Jude" from Logan "Justin Timberlake" Heley, a pool game against an American history professor teaching in Suzhou, and exploring the Suzhou nightlife.
May 26th
We woke up and boarded the bus to SeAll, a logistics factory at the heart of the Suzhou Industrial Park. The complex—built only 18 years ago—houses over a million people. Located on "Modernization Road," the factory serves as a center for goods assembly and trade, handling nearly $100 billion in goods this past year. We then drove back to downtown Suzhou where we toured a silk factory. Our tour guide was a very energetic woman who explained to us the life cycle of a silk worm. In case you are wondering, after the silk worm spins a cocoon, "the farmer, they kill them" (a quote from our tour guide). The factory showed every process of manufacturing the silk from examining the quality of the cocoons by hand to unraveling the cocoons and stretching them out to make silk products.
After the silk factory, we left for Hangzhou. Three hours later, we arrived at the Sophia Hotel. Each room number began with 8—a sign of luck in Chinese culture. We went out for a planned group dinner on Luman's birthday. She split off and had a second birthday dinner of a favorite Hangzhou specialty, sweet and sour fish from the famous West Lake. Later that night, some of us went to a popular club G+ and mingled with locals. We met a fellow Southern Californian from Long Beach named P.I., who was breaking into the entertainment industry in China.
May 27th
Friday may have had the best food of the trip to date. In the morning we toured a picturesque tea plantation outside of Hangzhou, where we learned the history and production of tea. Included in the tour was a tea tasting session, where we sampled four different flavors of fresh tea. We left the boutique shop and made sure to snap some group photos before returning to the cityscape. After a visit to another silk museum, we ate a group lunch at a restaurant on shores of "Xihu" (West Lake). After lunch, the group split up. David and Luman went on a bike tour around Xihu, some returned to the hotel, and others, toured the lake. Cynthia and I were among the people who walked around the lake, admiring the pagoda and a pool with a mass of turtles. Eventually we all returned to our hotel rooms to rest before going out for dinner and more exploration.
When we headed out again, we were in search of delicious street food and shopping. One local favorite was a sticky rice treat with a thin rice peel. The shops and vendors all sold similar items. Many of the small shops were even selling live animals, including frogs, turtles, eels, and other chickens. Somehow, after an hour or so, we managed to walk in a giant circle and ended back at our hotel. A big group of us took a taxi to bustling downtown Hangzhou to eat at the famous Grandma's Kitchen. We sat in a booth and ordered several dishes to share including kung pao pork, eggplant, pot stickers, lamb chops, and fried rice. Needless to say, no one left hungry. The bill came out to everyone paying 35RMB so about $5USD. A steal. After dinner, we walked around the nearby shopping mall and saw many of the latest fashion trends. After cabbing it back to the hotel, a big group went back to G+ where they saw P.I. perform and met more locals.
May 25, 2012
By Stephanie Guo & Fan Fan
May 19: Arrival
On Saturday, May 19th, we finally arrived in Shanghai, China! It was a long-awaited moment, and we were all very excited to step into Shanghai Pudong International Airport after nearly two months of anticipation and a fourteen hour flight. After arriving at the airport, the thirteen of us EASC China scholars and our TA Luman met Prof. Brett Sheehan and our guide, David (he told us his name is actually 文军 Wenjun meaning gentle and handsome, but that we could call him David) and then made our way on a bus (in Chinese 巴士)to our hotel near Fudan University.
May 20: Buying Phones
The next day after breakfast at the hotel (an assortment of porridge, pickles, steamed buns, red-bean sweet treats, eggs–and cake), we went on our first adventure: buying Chinese cell phones!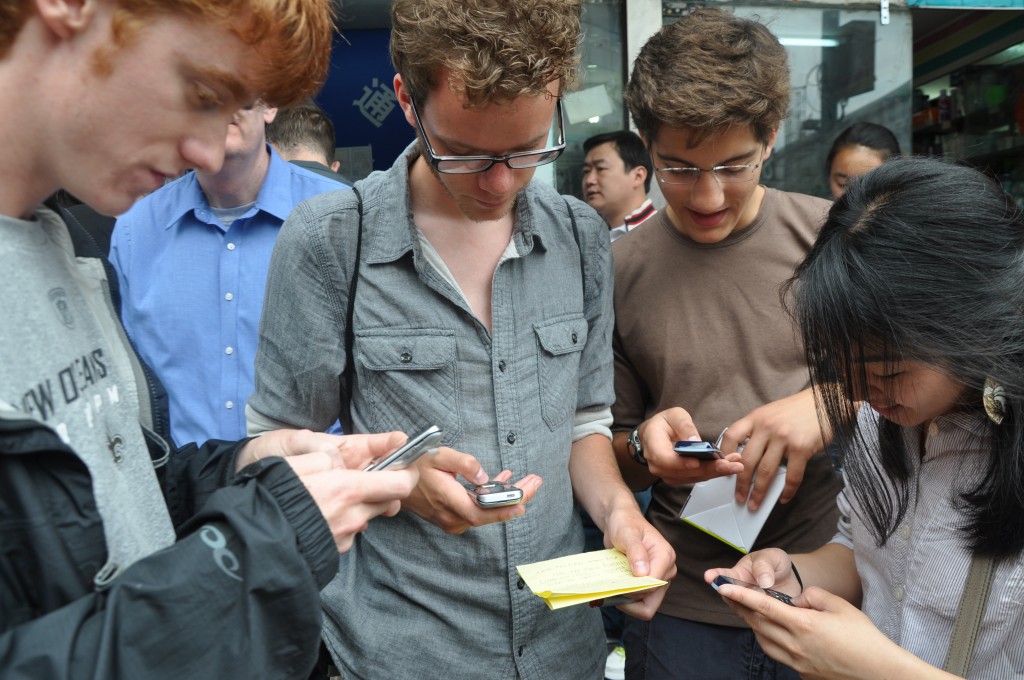 Most of us paid (using our stipend money) about 120-170 RMB for a phone and then 60 for minutes and a SIM card. It was fun to be in the midst of the bustles and smells of the city, and I learned that Luman is a master bargainer.
Afterward, we had a mini-adventure in buying our own lunch for the first time!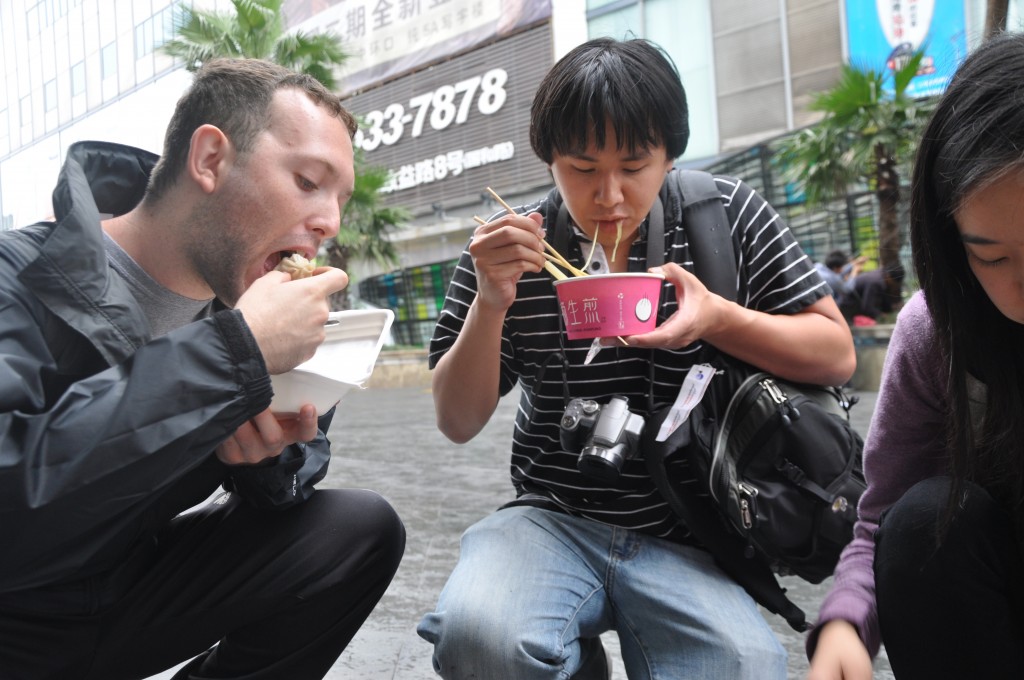 Tianzifang
Our afternoon activity on Sunday was also our first class assignments. One of the things that appealed to me the most about EASC 360 China is that we learn so much about globalization and Chinese history, but in a highly hands-on context. On Sunday afternoon, our class ventured to part of the old French Concession, Tianzifang, where we looked for examples of globalization. Tianzifang is now a shopping and dining area, filled with all sorts of shops selling everything from traditional Chinese paper cuts to Bob Marley buttons. As we ambled through the narrow alleyways crammed with an artsy mix of traditional Chinese decorations and cafes representing numerous different cultures, we took photos of things that to us represented globalization.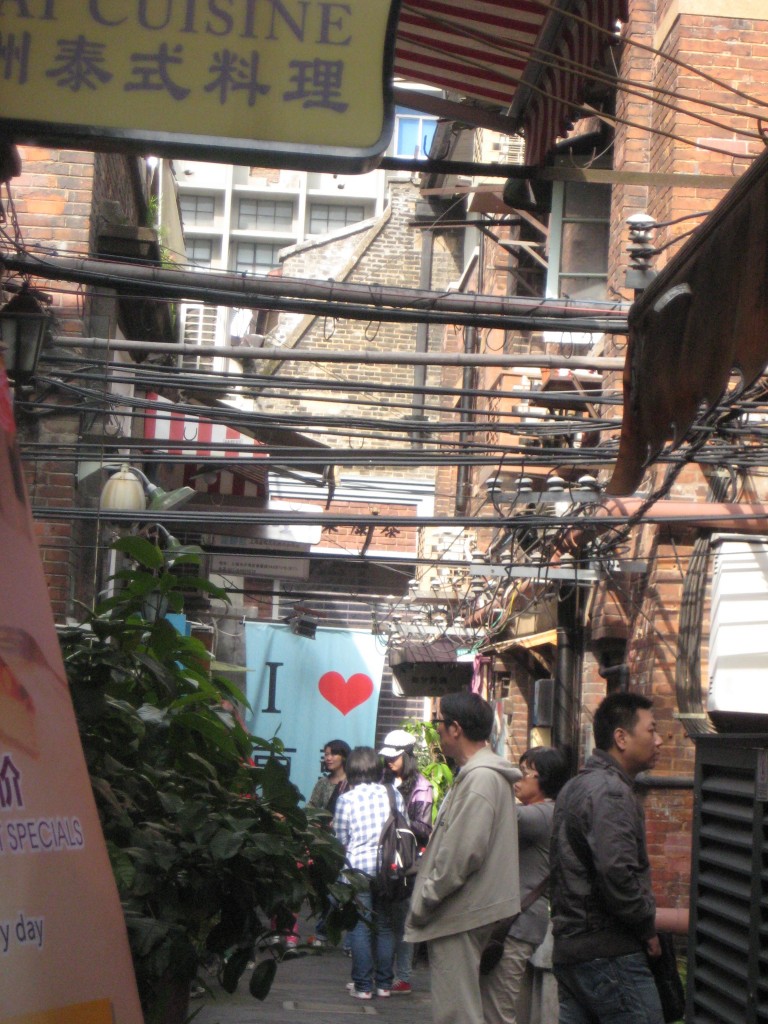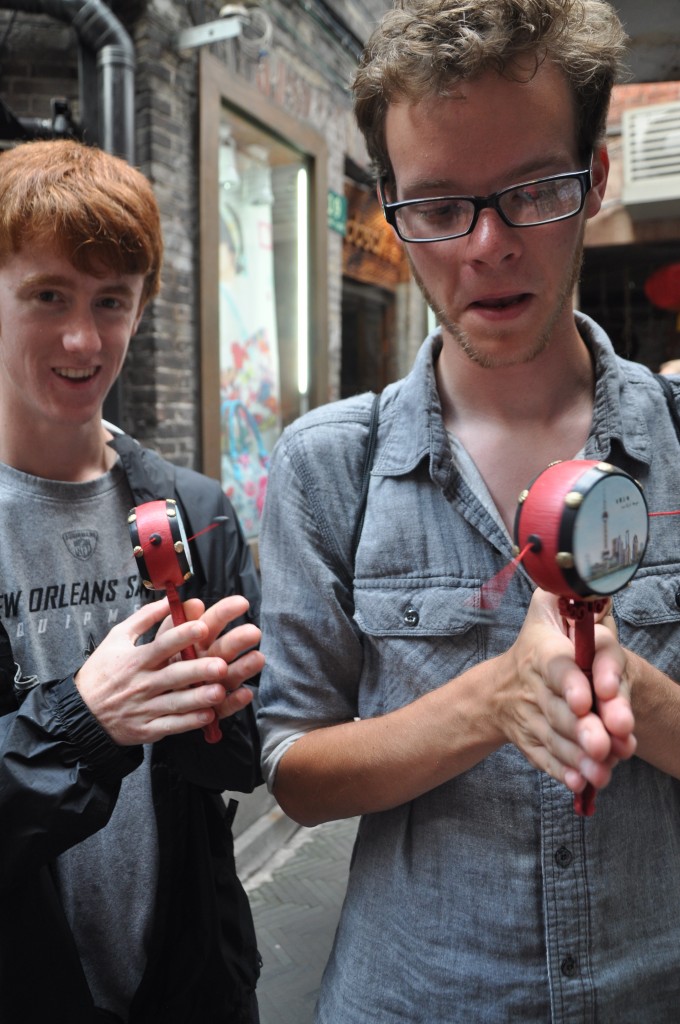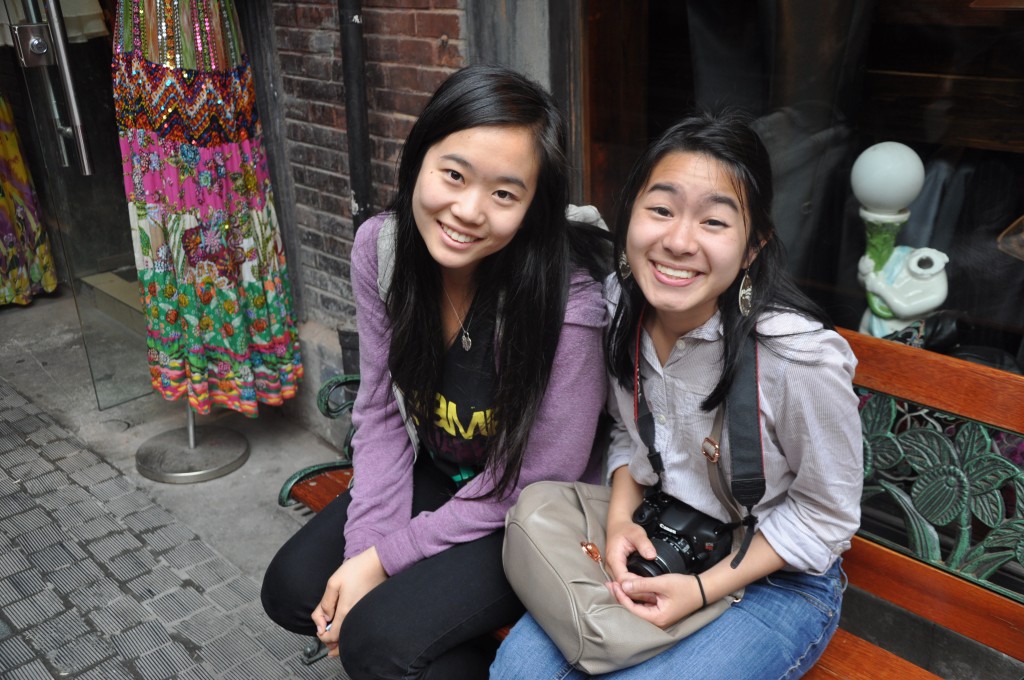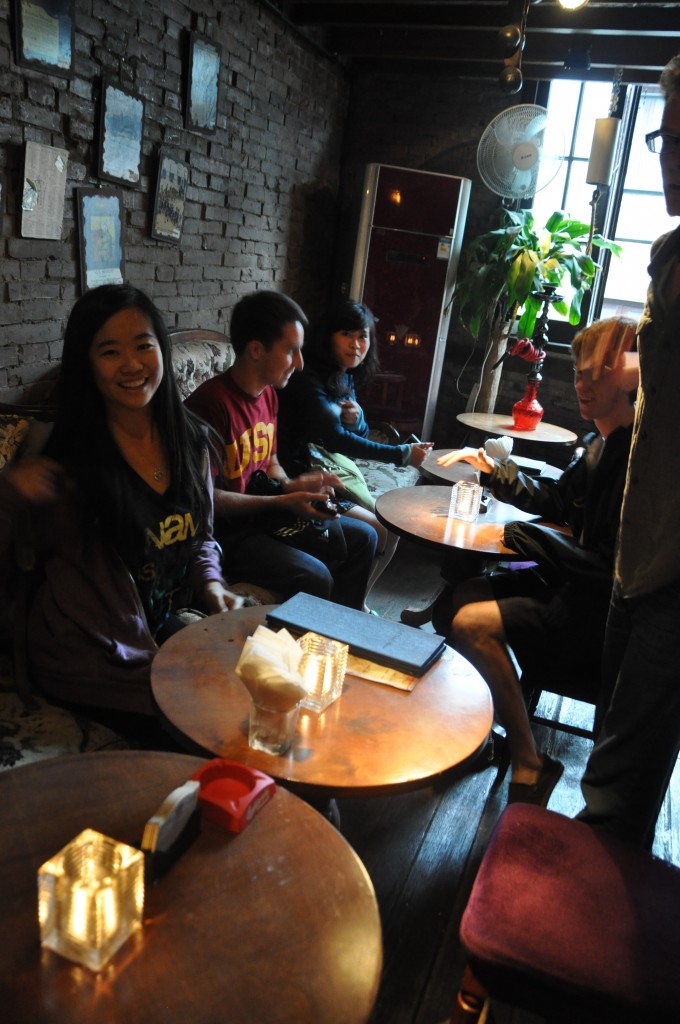 May 21: Class
Our first two days of class consisted for three-hour lectures including extensive discussion on our readings, as well as two hours of language instruction. The first lesson involved defining historical analytical tools, as well as determining the aspects that constitute globalization. After a quick geography lesson, the class discussed the assigned readings on porcelain and tea, two commodities that have experienced the effects of globalization and commerce in Ancient China.
After a lively discussion where each of us shared particular points about what we found interesting and global in the reading, we had lunch together in the local pedestrian mall and enjoyed authentic Chinese food as a group. Afterward, we had a two-hour Chinese instruction period where we learned how to greet one another. We all had a good time, both the beginners and the advanced speakers, as we learned to help one another in learning this complex language.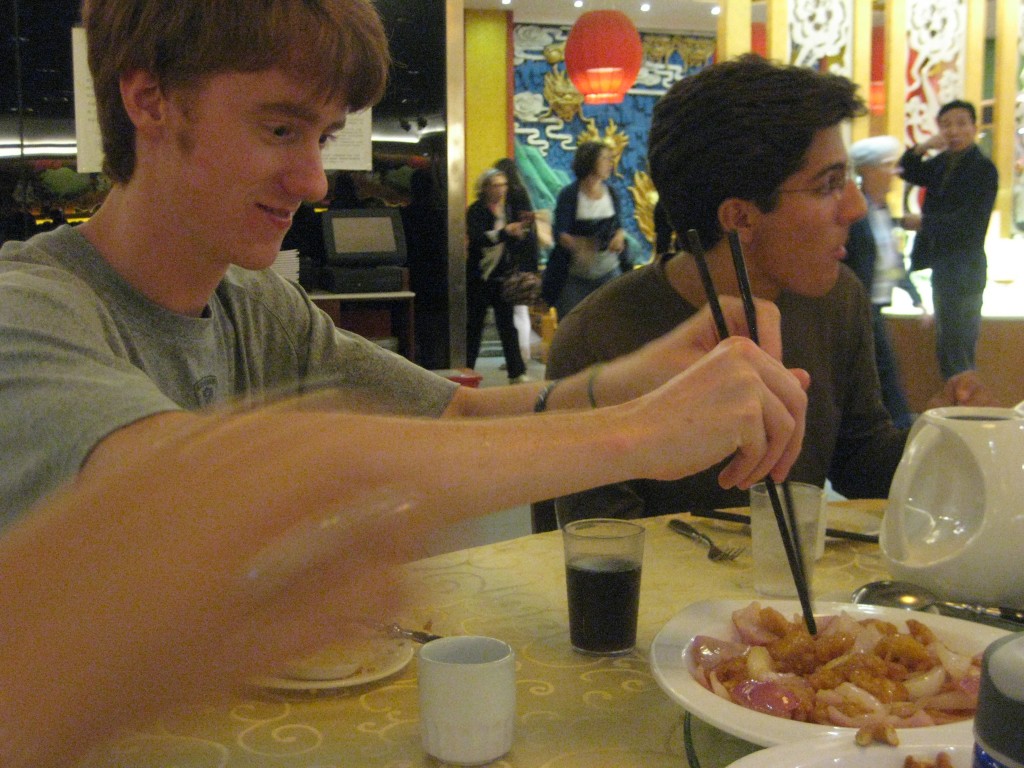 Xin Tian Di
After completing our first day of lessons, our group decided to do a little exploring without the help of our Chinese friends (David, Prof. Sheehan, and Luman). We made our way to the subway station with little difficulty, and managed to get on the correct train. Arriving at Xin Tian Di was a success in our book and we happily wandered around the area, which was rather reminiscent of the Little Tokyo/financial district of our home in Los Angeles. After spending a day "looking for the global in Tian Zi Fang," seeing globalization around Xin Tian Di became more of a game for us students as the effects of international exchange has become much more apparent after our first immersion experience. After practicing our Chinese and asking for directions (numerous times), we wound up in the popular bar and restaurant area, but quickly discovered that it was not only teeming with foreigners, but also definitely outside of our generous, but student, nonetheless, budget.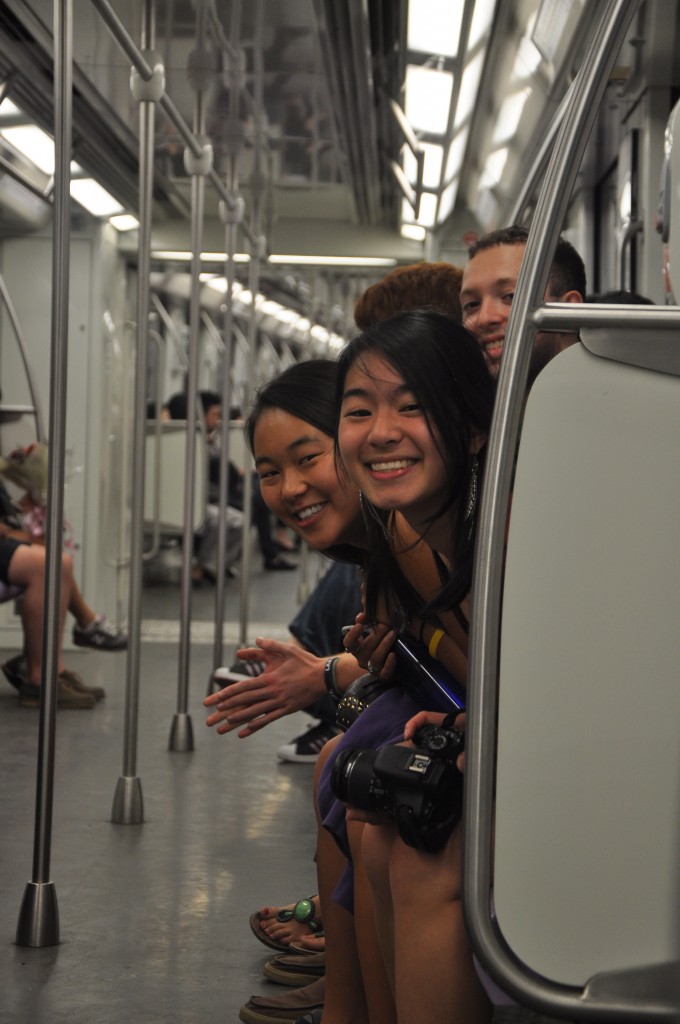 Taking the advice of a couple of nice police officers, we took a couple side streets and placed our bets on a somewhat sketchy looking restaurant. It turned out to be both delicious and cheap, and we ate to our hearts content.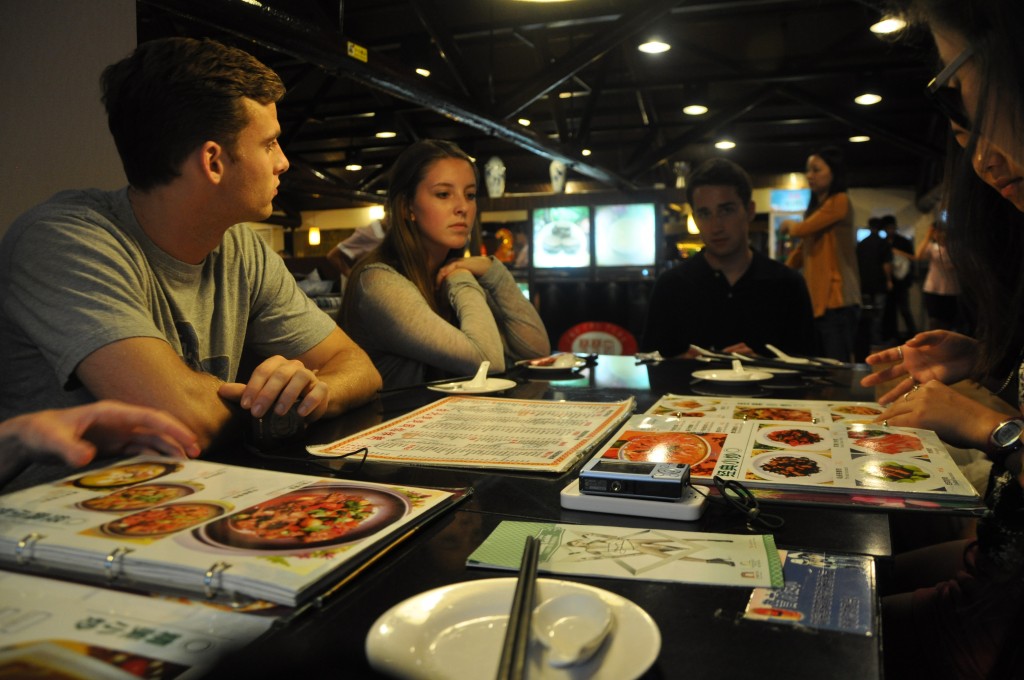 Afterward, we grabbed some drinks at Xin Tian Di as a reward for staying within budget and continuing with our diet of Chinese cuisine instead of opting out for burgers. The nightlife was beautiful and the weather, balmy, but jetlag was kicking in once again and we decided to call it a night. Our subway ride back was sleepy, and we ended up getting off on the wrong stop. This allowed us to explore a little, and get accustomed to the area by way of getting lost. Eventually making it back to Fudan University, some of the more energized guys in our group peeled off to start a 3-on-3 basketball game with the local students (the Americans were rather dominant), and the rest of us returned to our dorms for a night of reading and sleep. Thus concluded a successful night of exploring Shanghai and interacting with the locals.
May 22: Nanjing Lu and The Bund           
After our second day of class, our group decided to grab dinner at the famous shopping strip Nanjing Lu. Splitting up, we grabbed dinner on our own and enjoyed both local cuisines or comfort foods for home. Nanjing Lu is a popular place for tourists and locals alike and our group certainly enjoyed the night lights and shopping the area had to offer. We also went to the Bund (外滩), an area on the Huangpu River that was once part of the International Settlement. We had an amazing view of the Oriental Pearl TV Tower. All around us lights and buildings flashed brilliantly in the night.