By: Edith and Katie

On May 28, at 6:30 in the morning, EASC 360 students started our journey to China! First stop: Beijing. We had a quick layover in Vancouver and some of us enjoyed some delicious A&W root beer floats along with a quick workout!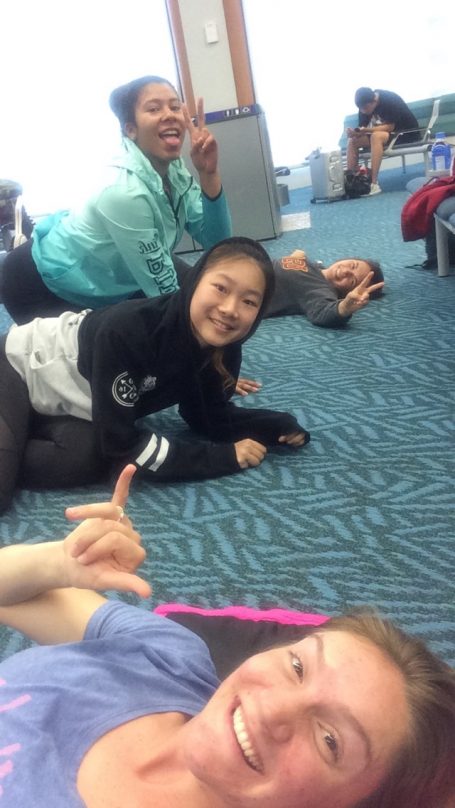 After that, we finished the longest leg of the trip–a ten hour flight to Beijing. When we landed, we went straight to dinner and enjoyed our first meal in Beijing! Restaurants host large parties with Lazy Susans. That way many plates are served at once and people can easily access them!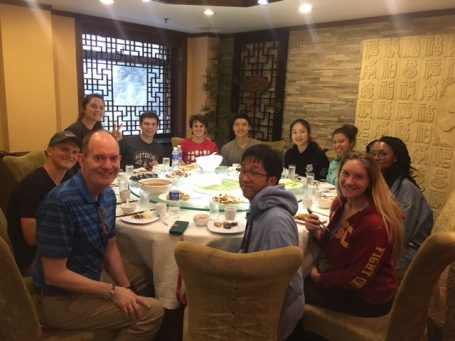 After dinner we went to get checked into our hotel. Most of us were ready to unpack and pass out!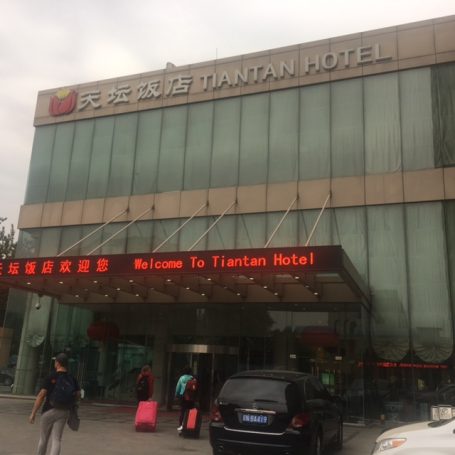 Even though everyone was exhausted from our long flight and lack of sleep the night before, we couldn't just go to bed for our first night in Beijing. We all decided to instead go out enjoy the night! We took the subway to Nanluoguxiang. It was basically a mile long alleyway lined with small shops and cafes. Everyone got ice cream and we all relaxed in an LA-vibin' place.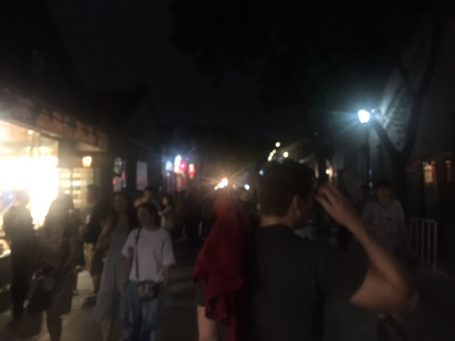 We were all pretty exhausted after that so we decided to head back before anyone passed out (a few of us almost did!). That night set a high standard for us–to go out and enjoy China as much and as often as possible. We've only got two weeks in China, so we have to use every moment we've got!
So after we got a full night's rest, we embarked on our first full day in Beijing. We started the day with a trip to the Forbidden City. We spent an hour walking from the front gate of the city to the back garden, with many stops at the residential areas of the Ming and Qing royal family.
The big group was separated into a few smaller groups to tour the city. One group took a hilarious photo in the garden by the sign that reads "Caution Wet Floor" posing as if they were falling. This group's great sense of humor was very much appreciated by a group of middle aged Chinese women who asked to take the photo together. And hence the following photography: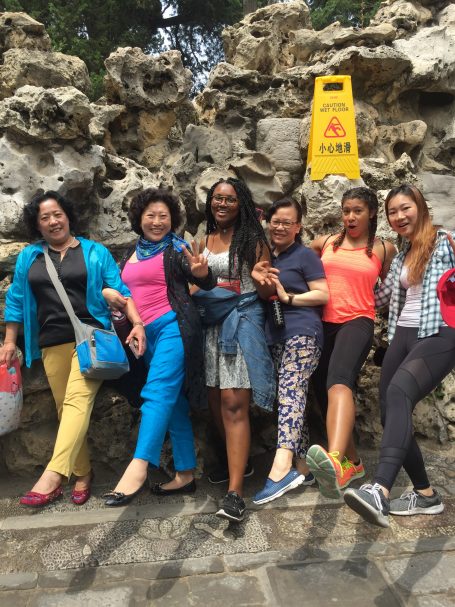 In the afternoon, after a mediocre tasting of a tourist meal at a restaurant that is 80% occupied by foreign tour groups, we got dropped off at Wangfujing, which is a famous shopping street at Beijing. At the Apple store, we met our China Normal University students who are helping us with each of our groups' research for the first time.

For team Soybean, the duo who were assigned to assist our group are both Chinese history majors. They took us to some western chain fast food places and informed us about the perception of these fast food for Chinese people.

After we were done with field work, we met up with the other 2 groups and went to a hutong, which are small alleyways in Beijing. After that, we kept walking and got to the park right across from the Forbidden City where we climbed up a hill to see the whole Forbidden city from above. The building that was built on the top of the hill was also the center point of Beijing.

After the arduous journey of 5 minutes of hill climbing, we went back to Wangfujing's APM mall for a hot pot dinner. The soup was plain and the sesame sauce that we dipped everything in was delicious. It was a nice ending to our first full day!