By Logan Heley and Hilary Albright
Sunday, June 10:
Today we had free time to work on our fourth assignment. My (Logan's) group consisting of Thomas, Nate and myself proudly finished in the middle of the evening, allowing us to spend the night on the town.
Monday, June 11:
Another studious day for the EASC crew. We presented our another round of assignments dealing with our trip to the Shanghai History Museum beneath the Oriental Pearl Tower. Following presentations we discussed the day's readings about elite and worker consumer culture in China. Our evening was calm as we prepared for a fun-filled rest of the week.
Tuesday, June 12:
There was an interesting discussion prompted by the author in regards to the existence of a universal "gay culture." The author argued that there is no such thing as a universal gay culture, but rather there are specific divisions. In China, for instance, the emphasis on filial piety affects whether or not individuals tell their parents that they are gay.
The afternoon was spent grabbing lunch and relaxing at various places along the Pedestrian walkway next to class. Some students went to the tried and true Korean restaurant, others visited the local sandwich shop, and the rest visited their favorite street vendor for Rou Jia Mo.
Wednesday, June 13:
In class we discussed the term "ku," which is basically the Chinese word for "cool." The author argued today's young generation of Chinese are "Generation Ku" and feel like they have greater freedom, but also study harder than their parents. We spent the afternoon at the Longhua Park of Revolutionary Martyrs and the temple nearby.
Thursday, June 14:
No class today! Most of us spent a good deal of the day working on our FINAL class project, this one dealing with post-1949 Chinese consumer culture.  We finished our assignments and then proceeded to one of our two favorite Shanghai establishments – Window's Scoreboard.
Friday, June 15:
Our final day of class.  We presented our final assignments and Professor lectured about the history of the World's Fair and "guanxi," an important Chinese practice where individuals use personal connections to receive favors. We had a lovely banquet with Luman, Professor Sheehan, his wife Euo. The night was spent at Window's Scoreboard, G+, M2 and other fine establishments.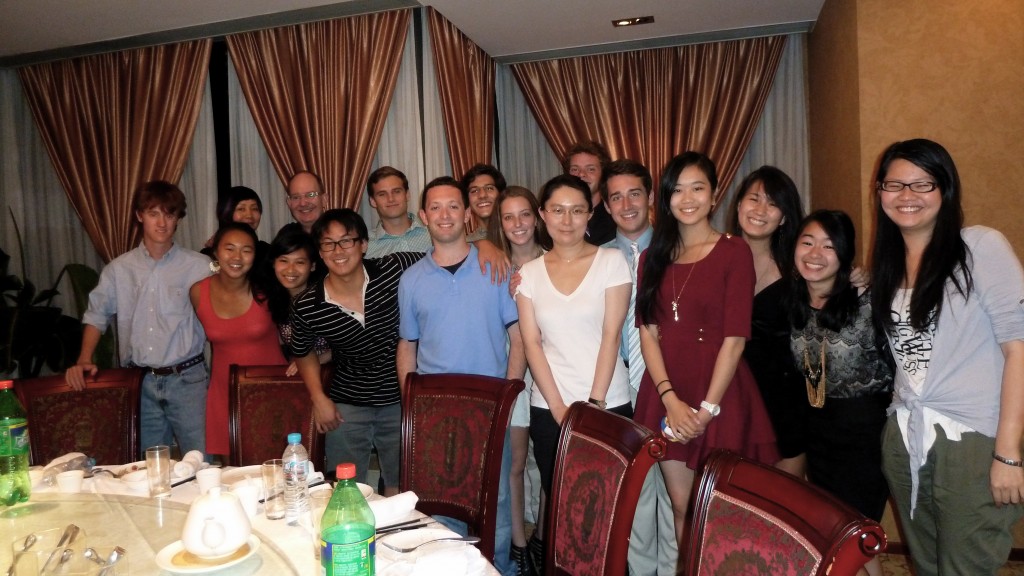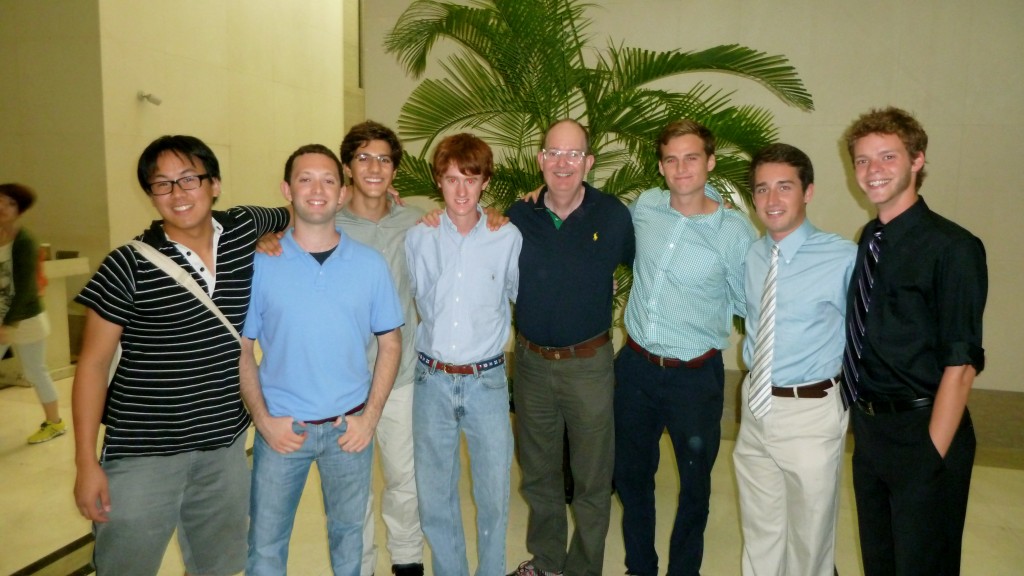 Saturday, June 16:
Today some of us went to a skateboarding competition that Professor's colleague's son was emceeing. It was an interesting experience and we got to see the Shanghai "suburbs." After that some of us went to Tianzifang, bringing our trip full circle. The evening was spent packing, followed by various fine establishments. Joe and Logan decided to make the most of our last night and stayed out on the town until the sun began to rise, helping a lady in distress along the way.
Sunday, June 17:
Today, our journey must finally come to an end. Janet and Alan have already left for other adventures in various parts of China and South Korea. Our group flight leaves at 9:35 tonight from the Shanghai Pudong airport, we'll cross the international date line and arrive on the same day in Los Angeles at 6:50 p.m. Pacific time. A 12 hour and 15 minute flight! Jim plans to go to Danny Edwards BBQ upon arrival in Kansas City, Joe has a Mexican place in mind for ATL and others have similarly enticing American eateries taunting their stomachs. We'll miss you GEA: China 2012! See you again Shanghai!