By Cliff Liu and JJ Bassette
This week was mostly spent on our EASC 360: "Global China 1800 to the Present" course at our classroom in Fudan University, where we also live. The course's content has covered a wide variety of subjects, including a general introduction to Chinese geography, history, and philosophy, not to mention more global aspects of China's recent modernization. The bulk of the material is delivered in a series of 3-hour morning lectures by Professor Sheehan. Here Professor Sheehan is delving into the basic differences between political ideologies that have shaped China's history.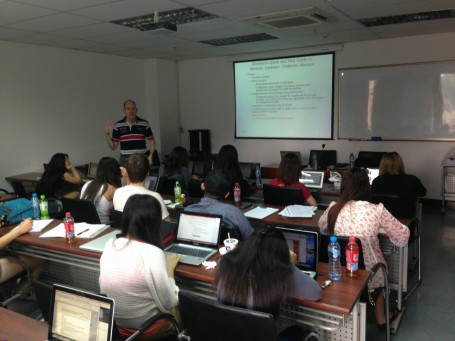 During 3 hour classes, breaks were necessary in order to promote an optimal learning environment. Some of the students used these breaks as time to mingle with the Fudan University students.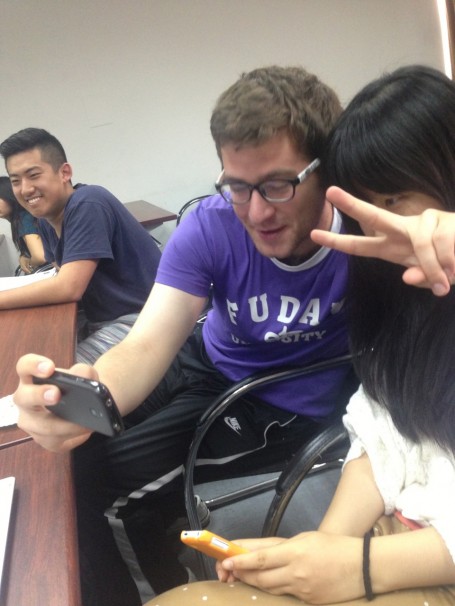 After each lecture, we're given an hour for lunch, where students disperse into the surrounding city to find street food, local restaurants, and markets to grab grub. Some of the students had a special treat when one of the Fudan University students auditing the course took them nearby Fudan for a meal at one of her favorite restaurants.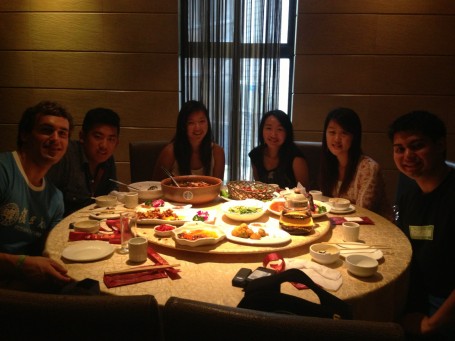 After lunch, all the students return to the classroom for a Chinese language lesson taught by our T.A. Carlos Lin. Due to the wide variety of previous Chinese experience among the students, the more experienced students helped coach some of the less experienced students. Here's native speaker Elisa Ting helping Joshua Neill work on his calligraphy.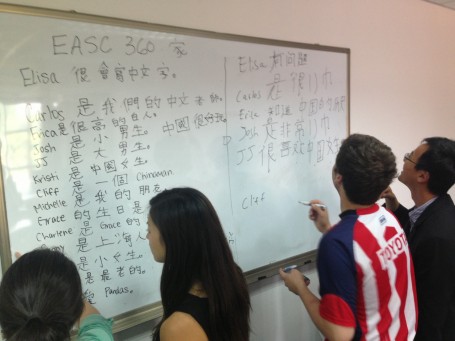 After class, students are free to do as they please for the late afternoon and evening to explore the city, to interact with locals, and to take in as much of the Shanghai experience as possible. Some students took to the courts of Fudan University, playing basketball and volleyball with Fudan's students. JJ Bassette and Cliff Liu overcame significant size disadvantages in their 3v3 pick-up basketball games. Elisa Ting and Erica Christenson, meanwhile, held their own on the volleyball court.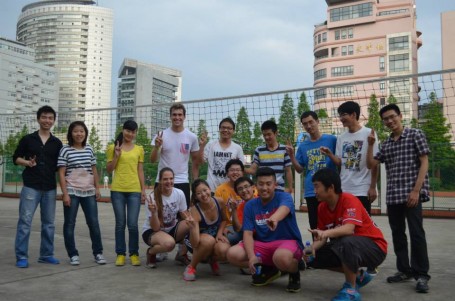 Other students fanned out into the city – Tyler Tokunaga checked out People's Square, where – in addition to beautiful museums, art exhibits, rock gardens, and waterfalls – thousands of mothers and fathers would congregate to advertise their sons and daughters for marriage. Each mother or father would write down a brief description of the child and display it as shown above, often with a picture, and then various people would gather to network and arrange meetings to help their children find spouses. Other students took in the cuisine – unable to cope without fine ice cream, Sunny Sun enjoyed Haagen-Daas ice cream, a much more elaborate experience in China than in LA. Similarly missing his form of musical expression, music student JJ Bassette was delighted to have stumbled across two Shanghai piano factory outlets. Missing hockey, Cliff Liu and Joshua Neil went for a skate at an ice rink located on the top floor of a mall nearby Fudan. Other times, we were treated to various planned activities, including a Tai Chi lesson on campus. (Evidently, Professor Sheehan had a bit of a difficult time.) Needless to say, we are loving it here at Fudan!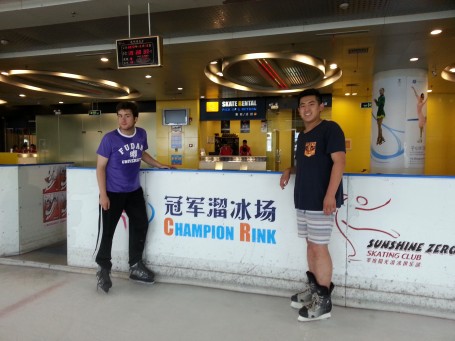 Joshua Neill and Cliff Liu skating at an ice rink by Fudan University