By Esmeralda Del Rio and Sunny Sun
Monday, June 17th
Esmeralda decided to visit the Jewish Refugee Museum located in Shanghai. Before she entered the Museum, Esmeralda was expecting artifacts of people who had lived in Shanghai. She went into the first exhibition, which showed vivid illustrations about Auschwitz during the early years of the Second World War. Esmeralda really wanted to go visit the Shanghai Jewish Refugee Museum because it took place during the International Settlement in early 20th century—also connected to theme of our class, globalization.
Tuesday, June 18h
After class, we decided to have lunch with Jess and Aijun, students from Fudan University. The restaurant was amazing because the atmosphere was great and the food was delicious. We discussed life as college students at Fudan University and USC.
In the afternoon, we all visited the former French Concession area, which is renowned for its colonial-style architecture. We peeked into the Shanghai Academy of Arts, which features intricately carved, decorative pieces.
After touring the museum, we had some free time before dinner to wander around the area on our own. Several of us took a walk down Huaihai Lu, which is one of Shanghai's largest shopping streets. Unlike Nanjing East or West roads, Huaihai Lu has a higher concentration of locals going about their everyday activities. We saw some interesting sights along the way – including a woman boxing a tree repeatedly in the middle of a park – and visited piano shops because JJ's hands were itching to play the piano. All in all, it was a wonderful way to spend the afternoon and see the sights of Shanghai!
Wednesday, June 19th
In the afternoon, Sunny visited the zoo and finally got to see one of the things she had been waiting to see since she arrived in China – the giant panda! Although it was obviously sleepy, it was nonetheless an adorable creature.
Esmeralda decided to go to a flea market— near East Nanking Road— to see what people were purchasing. She also decided to start buying souvenirs— a cool ring for her! One of the ladies selling souvenirs decided to give Esmeralda a free keychain of a panda after she had made a few purchases.
Thursday, June 20th
In the morning, a few of us (JJ, Danielle, Erica, and Esmeralda) decided to go with Professor Sheehan to a City God temple in the subway. Once we arrived, we burned incense. It was really great participating in a ritual done by the people, who were praying for a family member or a daughter/son in their studies.
Today was a free day (no class!) so Sunny spent the morning visiting Xintiandi with Charlene. We decided it was only fitting to go on a food adventure. We started off the day by having brunch at Crystal Jade, a fine dining restaurant famous for its Cantonese-style dim sum. Suffice it to say, it was definitely one of the best meals either of us have had for a while.
After lunch, we wandered around the Xintiandi area for a while, looking at shops and grabbing coffee. Xintiandi is one of the most unique areas in Shanghai in that it contains modern boutiques, cafes, and bars renovated from old Shikumen buildings. It is one of the best districts in Shanghai for eating and shopping, two of our favorite things to do.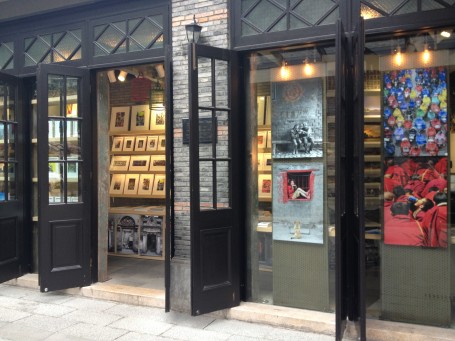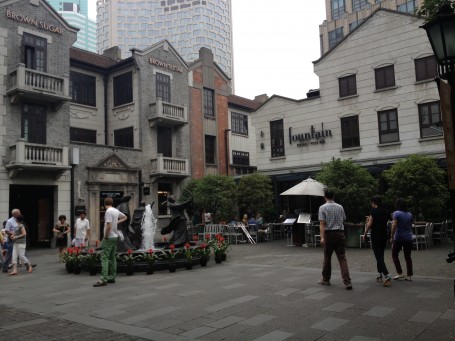 We ended our food adventure by visiting HOF Chocolate, a chocolate dessert bar in the French Concession. Dessert was absolutely amazing! The orange mud chocolate cake was one of the best things I've tasted in a while. We both returned to Fudan very happy!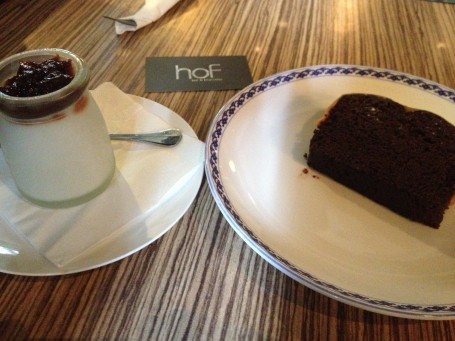 Friday, June 21st
Today was our last day of class! Everyone presented their final projects while enjoying snacks (courtesy of those who were late to the previous class). It was clear that everyone had come a long way since the beginning of the program in terms of what we had learned about globalization.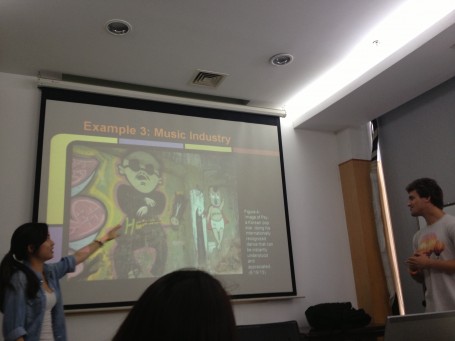 After the presentations, we all discussed what we had gained from the class and Professor Sheehan had a proud papa bear moment. It was definitely a nice closing to the class!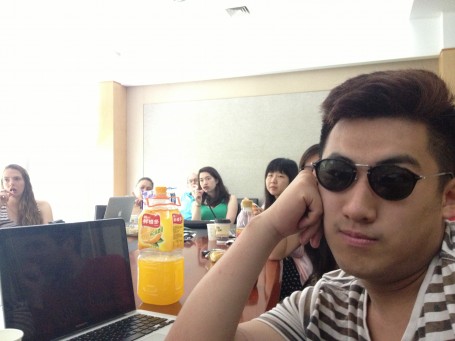 In the evening, we had a banquet in order to celebrate our time in China together. The food was quite delicious and included crab, white rice, and ice cream—to name a few. It was great to spend time together, since it was our very last night together in Shanghai. Yanjiao, a Fudan student who was part of our class discussions, also joined us for our last meal together!