By Charlene Tran and Tyler Tokunaga
9 June
We said goodbye to Beijing and caught our very first train in China to Zhengzhou. At the speed of 307 Km/ Hr, the image of the vibrant city of Beijing quickly faded into the background from the window view to give way to vast rice fields that stretched as far as an eye can see. While the cities of China constantly reform themselves to catch up with the pace of globalization, the vibrant agriculture in the countryside remains the firm foundation of China's economic development by embracing and nourishing lives. Instead of taking a nap, some of us took advantage of this rare opportunity to contemplate the beautiful scenery of the countryside and let our thoughts be carried away.
Zhengzhou, a provincial-level city that not many know of is actually home to a population of roughly seven million Chinese and is a political, economic, technological and educational center of Henan Province. We arrived in Zhengzhou in the afternoon and after lunch, we went to the city center of Zhengzhou, also known as Zhengzhou New Area or Zhengzhou Eastern New District. On our way there, we saw both sides of road being crowded with ongoing constructions of apartment and office buildings while various parts at the middle of the road were fenced for construction of highway bridges. At Zhengzhou New Area, our bus stopped at a large park along the river opposite to Zhengzhou International Art Center. We felt as if we had entered a completely new country; the area was devoid of traditional Chinese characteristics while having an advanced city design with a combination of ecological city and ring city ideas. Many buildings were also branded "International" to blend in with and enhance the modern feel of the city.
Zhengzhou New Area, despite its cosmopolitan look, is China's largest ghost town. The park by the river was filled with visitors, who came to enjoy the greenery and beautiful man-made marshes, but rows and rows of newly constructed luxury apartment, hotel, and business buildings surrounding it still sat empty on vast, deserted boulevards. The lack of demand for these new constructions was indicated by missing air conditioner units. Will life spring up in this "ghost town" in the near future? The answer, perhaps, depends on how fast Zhengzhou New Area can become a center of capital flow to attract foreign investments and a place where jobs are better paid and easily found to encourage migration of workers from rural areas to the city center. At around 5pm, we left Zhengzhou New Area and headed to our hotel to check-in and have dinner.
After having a filling family-style dinner at the hotel, some of us went with Professor Sheehan to the shopping center of Zhengzhou at around 7pm. We met a very friendly female taxi driver who was also our age and college student. During the entire taxi ride, she chatted wholeheartedly with Elisa and Grace, our two Chinese-speakers, and even took a photo with us. The shopping center was crowded and lively, and a popular spot for locals to spend their night. Many of the shops had English names, and some were named after global brands, such as Playboy, even though the products were not related. The middle of the road was fenced up for the construction of the first subway line in Zhengzhou. On the fences, we saw images that portrayed the future Zhengzhou, moving towards modernity, consumerism, and globalization.
10 June
Early in the morning, we left the city to go to the Mount Song scenery scenic spot area, a convergent place of Buddhism, Taoism, and Confucianism. Our first destination was the Taoist temple. The whole layout of the temple reflects the Taoists' emphasis on order and equability. The symmetric architecture was composed of yards and structures that were systematically spread out along a central axis. There was also integration of man and nature elements; some gardens were man-made with walkways and pavilions, and some were purely natural. We were lucky to be able to witness local Chinese people traveling to the temple to burn incense, paper models as offerings to the wandering souls, and pay respects to the Gods. The most exciting part of the visit, for most of us, was getting our fortune read. The first practice was palm-reading, and the second one was similar to Kau Cim, where the querent draws a stick with a number from a bamboo bucket and retrieves an answer that corresponds to the number. Whether the readings were accurate or not, the experience was what mattered most.
After the Taoist temple, we were treated to lunch and a show just outside of the Shaolin Temple. The show was a demonstration of Shaolin-style kung-fu, with monks showing off their acrobatics and abilities, including breaking metal rods on their heads and popping a balloon with a dart through a sheet of glass. After the show we toured the Shaolin temple, hearing from our tour guide Joe about the history of the place. As is tradition, after visiting a Buddhist temple we ate a vegetarian meal (which made our two resident vegetarians, Danielle and Amy, very happy). We retired for the night at our hotel, located right next to a large kung-fu boarding school. From our rooms we saw students working long into the night and early in the morning to master kung-fu.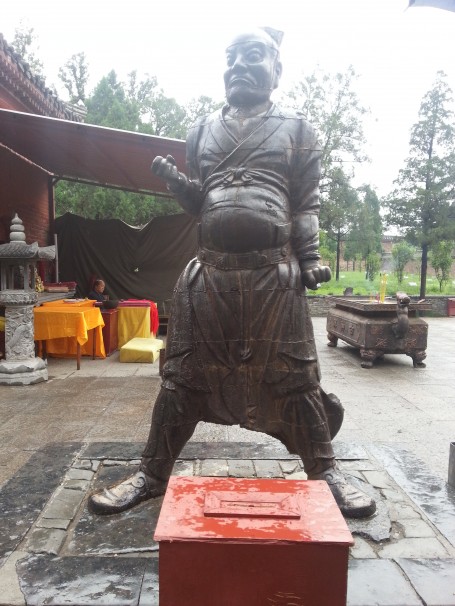 11 June
Since we did not have enough time to visit the Confucian Academy yesterday, we decided to leave the hotel earlier than scheduled today to make time for the landmark. The layout of the Confucian Academy was similar to that of the Taoist temple that we went to the previous day in that it centralized on the ideas of symmetry, harmony, and balance between man and nature. Even though the Confucian Academy was not a temple, we still saw many locals paying a visit to show their respect to Confucius and the ancestors. We realized that, similar to the Taoist temple, there were not a lot of foreign visitors at the Confucian Academy compared to the Shaolin temple. This portrays how globalization is uneven.
After the Confucian Academy, Professor Sheehan had the bus driver make an unexpected stop in a remote village so we could see what rural China is really like. A family graciously let us into their home to take a look around and even gave us fresh fruit! We kept our visit brief, so as to not disturb them too much, but we wonder what they thought of 16 foreigners bursting into their home.
After visiting the village, we tried to head to the White Horse Temple, but found our way blocked by construction on a bridge! Instead, we headed to the Longmen Grottos to visit some of the world's largest outdoor stone Buddhas. While Joe explained to us the history of the stone Buddhas, including the damage they suffered during the Cultural Revolution, we made friends with two Chinese university students, who accompanied us on our tour. After reaching the end of the Buddhas, we took a boat back to our bus. We again tried to drive to the White Horse Temple, but a local rainstorm moved in and we were forced to omit that stop. Instead we went to dinner early and retired to our hotel to rest up for our plane ride the next day.
12 June
We woke up early to get on our bus to the local airport. Tour guide Joe wished us an emotional farewell before we hopped on a plane back to Shanghai. We landed in Shanghai at around 2 PM, which gave us all plenty of time in the afternoon to begin to work on our assignments for this trip, explore the city or simply laze around after our long trip.