By: William Koch
As our time in Japan is winding down, I find myself both happy to get home and sleep in my own bed, and sad to leave a country that I have made such wonderful memories in. The farewell party hosted by Meiji was the perfect ending to our trip.
The party began with a group toast. Everyone filled a glass with green tea, orange juice or apple juice, and the whole room raised their glasses and called out one final "Kanpai!". Meiji students, USC students and Northeastern students formed a long line for food, and ate until they were all full. Professor Power interrupted our food comas, and said some words to the students of USC and Northeastern, thanking everyone for fun, memorable weekends at Yamanaka Lake.
After this, a few professors from Meiji shared their experiences in the program, and invited everyone to come back to Meiji whenever they pleased. A professor from Northeastern shared some words, then Professor Katada gave a speech. Professor Katada shared that the GEA- Japan program has always been one of her favorite teaching experiences. She said that although students may forget what they learned in the class, or the name of their professor (we will never forget you, Katada-sensei!), she knew that students would never forget going to Japan, their experiences at Meiji, or the research they conducted abroad.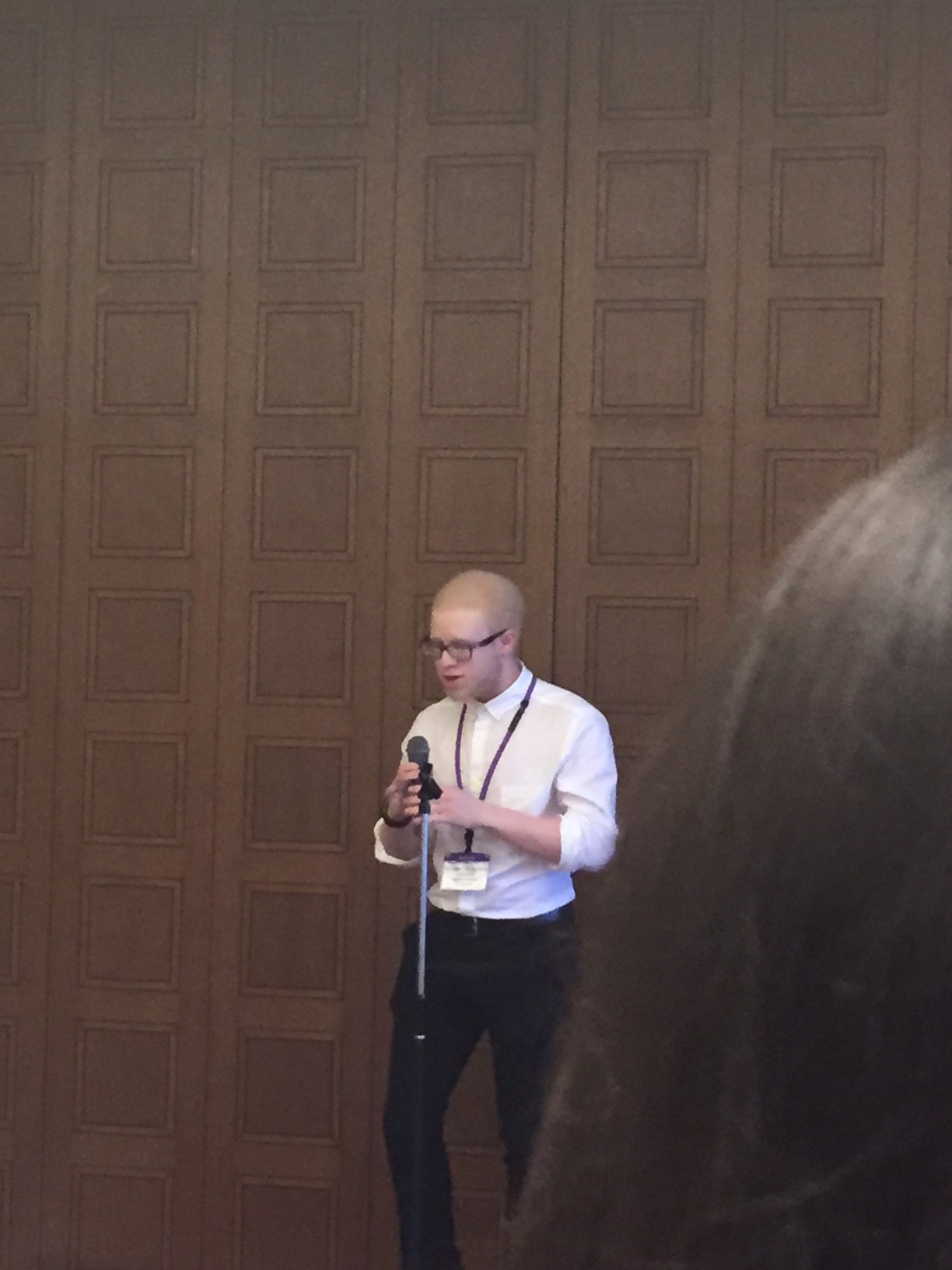 Next, some special words were shared by our fellow students, from Meiji and USC. Vincent went up first, and delivered a heartfelt speech, saying that although we may speak different languages, or be from different ethnic backgrounds, we were all united during our time in Japan over our yearning for knowledge and the great experiences we shared together. Ipsa went up next, and shouted out individual Meiji supporters for their helpfulness, kindness and energy.
Next, me and some Meiji supporters made our way to a grocery store. We scoured the grocery aisles, piling snacks and drinks into the small carts. We left the store with everyone's arm straining under the weight of full grocery bags. We found the venue for the after party, and carried the bags up in the elevator.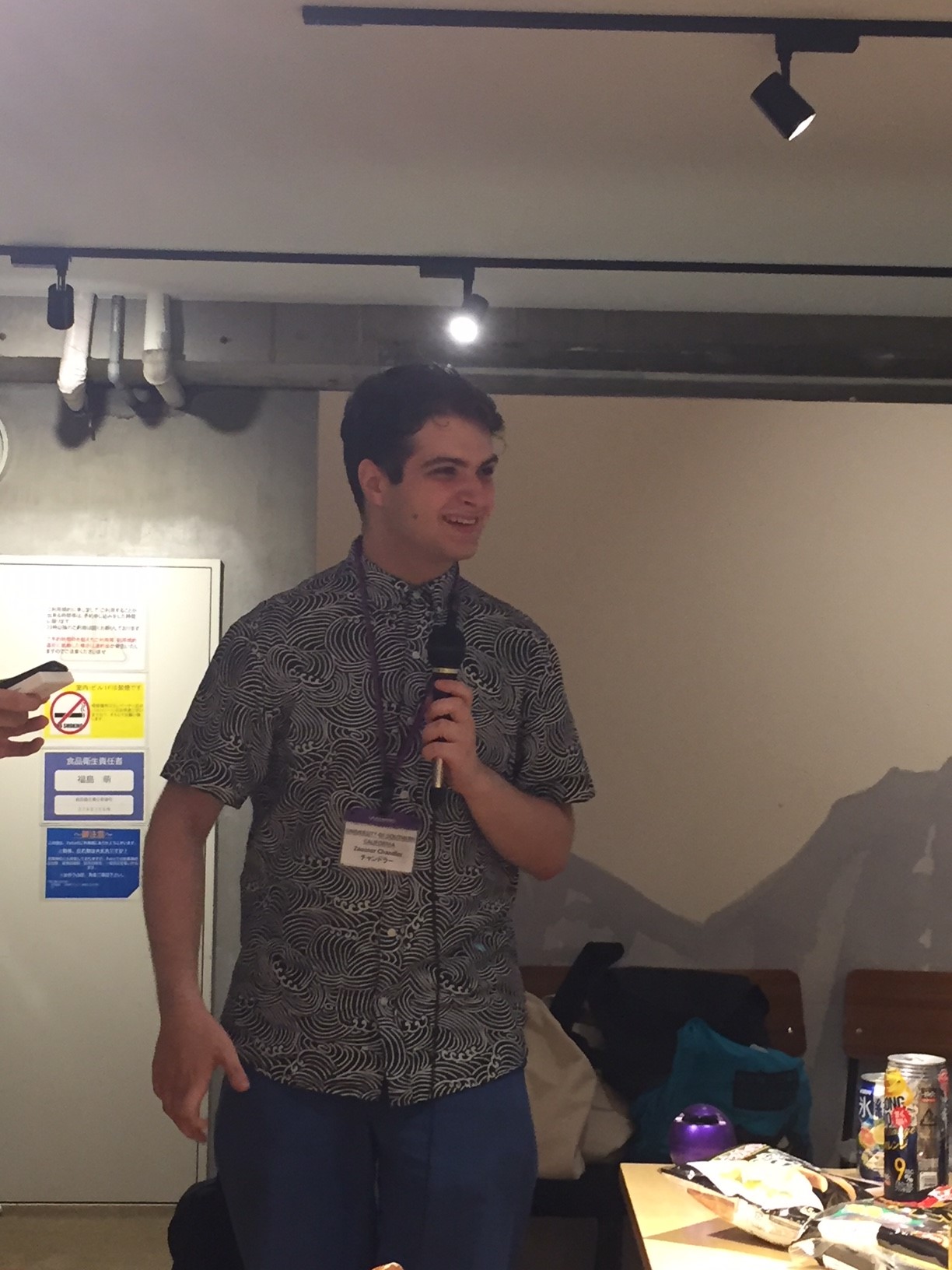 Then the real farewell party started. Some students (that were above 20) may have ingested a beer or two. The under-age students sipped orange juice or green tea. We played music from Japan and America, and everyone had a great time dancing, singing and eating. American students tried out new foods, and Japanese students tried out new dances.
Pretty soon, someone revealed a microphone, and the karaoke started. Isabel and Ipsa started, belting out Beyoncé's "Halo" like they had been practicing for weeks. Chandler performed an energetic rendition of Big Shaq's "Man's Not Hot", not leaving out any of the indecipherable onomatopoeia that Big Shaq is known for. Chandler looked comfortable with the mic in his hands; I think I see a budding rap career in his future. Max sang multiple Michael Jackson songs, dancing like the king himself. I was in awe of how well Max could move his slender frame up on that stage. It was clear to me that he was a natural dancer and performer. Kaori and Misako went next, singing a beautiful version of Justin Bieber's "Beauty and the Beast". When the song got to Nicki Minaj's rapping part, I thought the duo would tap out. But they continued, with even more poise and talent than before.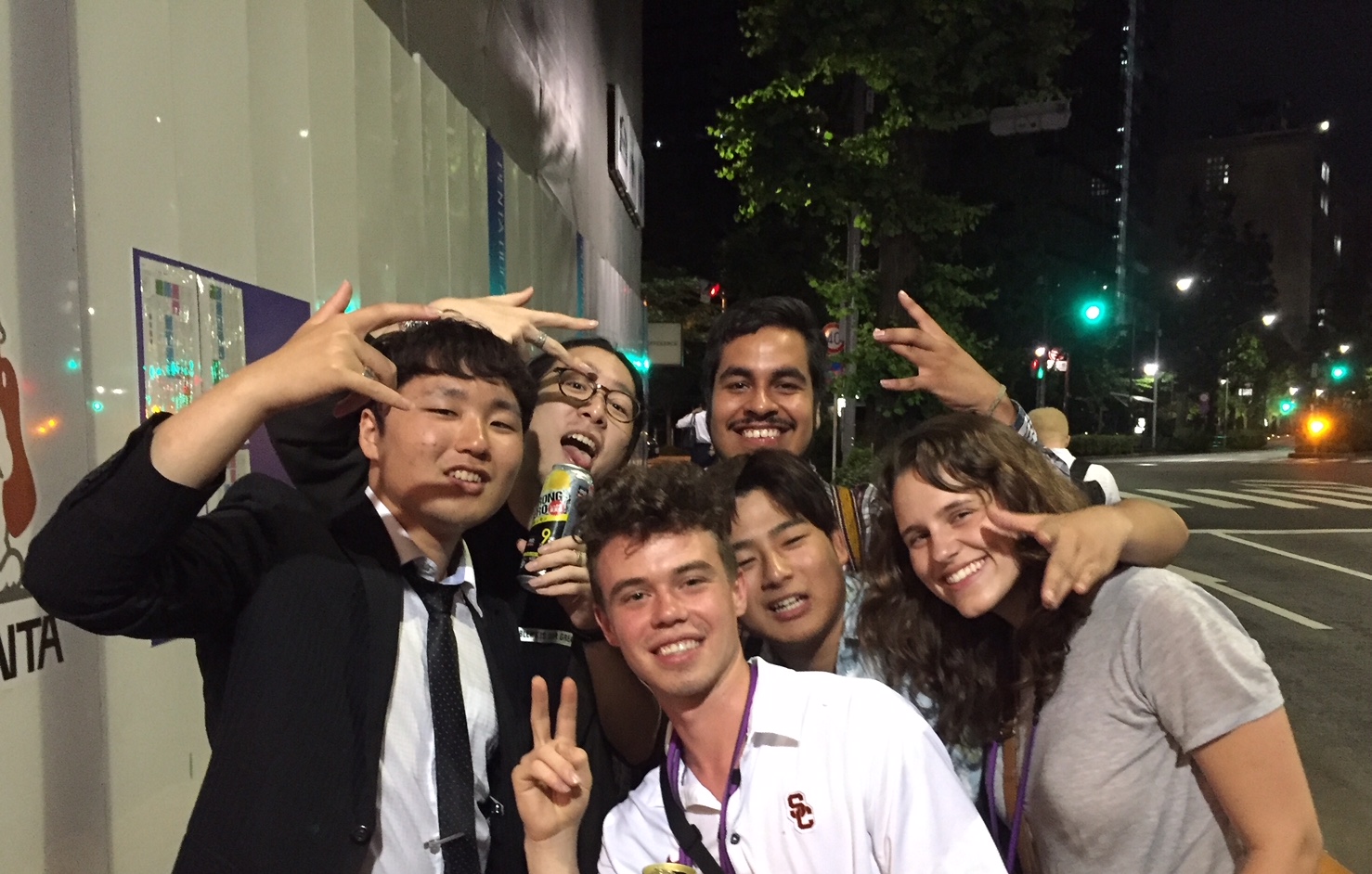 Then it was time for me and Tatsuya to get on the mic. We sang " I Want it That Way" by the Backstreet Boys. My voice was crackled and pitchy, but Tatsuya sang with the voice of an angel. After the final chorus, I took a break from singing to look at the crowd. Many Meiji students and USC students alike had tears in their eyes. Some had to leave the room to hide their emotion (or avoid our terrible voices).
We took a break from karaoke to do more eating and drinking (water). After a while, it was time to start cleaning up. Teamwork made the dream work, and the entire room was spotless within 30 minutes.
Then we had some final karaoke songs. Everyone gathered around the mic and belted out "Say Something", with even more tears in their eyes. Our last song was "How to Lose a Friend", another tearjerker. I was too busy singing, but I soon realized that I had created a small puddle on the floor from all of my tears. It took an entire roll of paper towels to clean it up.
When the clock struck 11, we left the building and said our final goodbyes outside. There were lots of hugs, smiles and invitations to visit again. Happiness and sadness mixed in the air, and filled everyone with the feeling that although our time together was temporary, our memories would be forever.
I would like to say one final thank you to all the Meiji supporters and faculty that made this trip possible. I had an absolute blast in Japan, and I know that without the Meiji student's guidance, jokes and language lessons, I would have just been another lost foreigner in Japan. I was shocked by the intelligence, efficiency and kindness of all the supporters. The Meiji students made us feel like family, and I think I speak for the entire USC group when I say that we are extremely grateful.
Until next time, Japan!