By: Manuel Valdez
The third-to-last day of the GEA Japan Maymester was full of ups and downs, respectively. We started the day off by having breakfast to prepare for what would be an eye-opening visit to the Korean High School in Tokyo. I think I speak for everyone when I say that we were unsure of what to expect once we got there. Coming from the United States we knew very little about the lives of those who identify as North Korean or the country for that matter, other than what we are presented in our television screens. Needless to say, I was shocked and completely surprised at what we encountered at the school.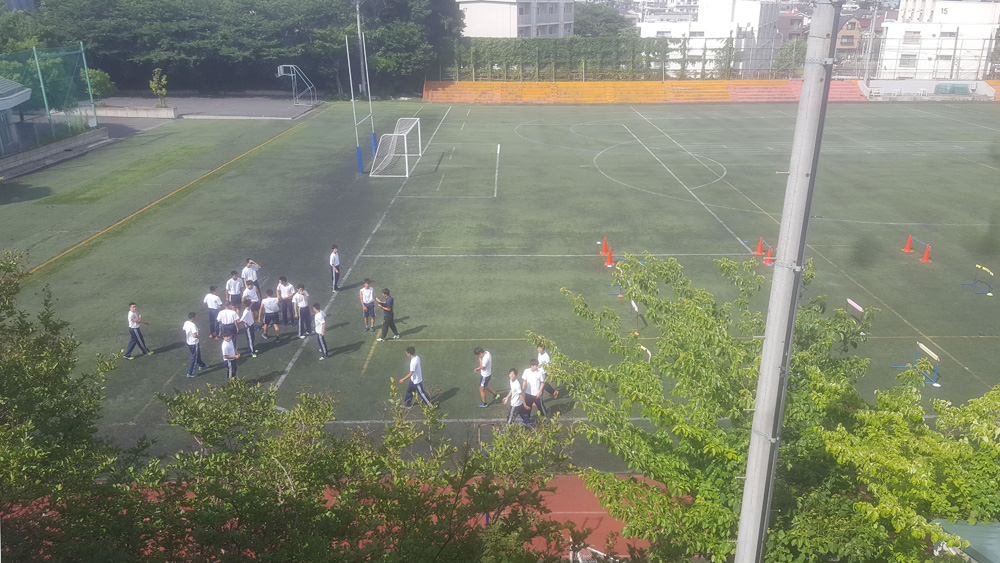 When we walked up to the gates, the first thing I realized was the sheer size of the campus. A field half the size of the campus was the first thing that caught my attention. Growing up in LAUSD schools, I am used to large campuses, however this school surpassed any I ever attended in cleanliness and order. As we walked into the main building we took our shoes off and slipped on some walking shoes that were provided for us. The second thing I noticed was the lack of students walking around, however I soon realized this was because classes were currently being held and students, for the most part, were in their seats. After waiting for the school Principal in a nicely furnished meeting room for a few minutes he came in to give us a short history of the school. Although he only spoke Japanese, Rio was able to elaborate and pass on what he was saying to the rest of us. At the end of his conversation he asked if anyone had any questions. I knew, as did we all, that this would be a once in a lifetime opportunity to ask questions very few people in the world could. Surely enough, many of us asked about things ranging from the school's stance on political agendas, intramural sports, problems not being accredited as a school some years before, and even questions regarding the school's current lawsuit against the Japanese government for exempting them from the universal access to High School policy that had been enacted allowing other schools, including international ones, to offer classes to those not willing to pay for it.
After answering our questions fully he took us on a tour of the classes. We visited at least four classes, English, Math, History, and a Japanese class, something I did not expect to find there. Despite the obvious pictures of North Korean leaders in the front of the classrooms these classes and more specifically, the students, were just as normal as any other their age. They would wave at us as we entered and ignore their teacher's instructions because they were amazed and we were simply standing there. When Vincent, one of our classmates, was allowed to introduce himself he asked if any of them had any questions and like the teenagers they were they'd ask questions like, "Do you have a girlfriend/boyfriend?" and things of the sort while giggling among themselves.
Before leaving, we were presented to about nine other students back in the meeting room where we first had our conversations with the principal. There we asked questions ranging from what they thought of the U.S. to what they wanted to be when they grew up. We even shared some laughs or two when students from either group would answer with things like, "My favorite hobby is sleeping." After about three hours at the school we returned to our hotels to prepare for our farewell reception at Meiji University.
I would have to admit that everything I encountered at this school surprised me, in a positive way. Instead of finding the die-hard devotees of the North Korean government I found a community of young people that were just interested in their ancestry and culture. Coming from a bi-cultural background myself I understood the significance of learning the history, language, and culture of your predecessors country while living in another. Although I cannot agree with the leaders of the North Korean government I sympathized with these students who simply wanted to keep their culture alive while doing their best to integrate into the mainstream society of the country they live in. I left this school with a much more positive outlook on the people who attend it and with a new hope for the future of peace between the countries of Korea and Japan.