August 29, 2014
By Charlsie Hoffman
I first ran into yukatas at Disney Sea. Being the foreigner that I am, I yelled out, "Look at the cute kimonos!" The Meiji students I was with, however, immediately corrected me, informing me that what we were seeing were not kimonos, but actually yukatas. Sounding very similar to the past tense conjugation of the adjective good (yokatta), I was deeply confused by this word until it was written out for me. Throughout the rest of my stay in Japan, though, I didn't regularly see women in yukatas, but it wasn't unusual to see one occasionally.
To the inexperienced eye, yukatas and kimonos are hard to differentiate. In layman's terms, a yukata is a light summer kimono. Both decorative robes with long sleeves and a sash, a yukata can be distinguished from a kimono by a few characteristics: the cotton material, a single collar as opposed to the kimono's double collar, and sock-less footwear, as opposed to socks always being worn with a kimono. (Disclaimer: There are always exceptions, but these are some of the most noticeable differences, according to my experience. When in doubt, if it's summer, then it's most likely a yukata!)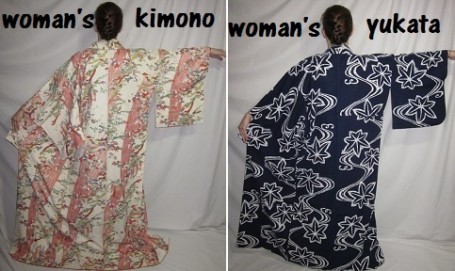 Unlike Tokyo, Kyoto is well known for its geishas, which make the city an alluring destination for people, like myself and Natasha, who wish to dress up and walk around in more traditional clothing. With enormous help from our TA, we made an appointment to get the whole shebang (yukata, shoes, purse, and hair). At first, I was apprehensive that my enthusiasm to experience and be a part of the culture through dressing up would be misconstrued as racist, but I was reassured by my Japanese acquaintances and classmates alike that no one interprets it that way. Reassured, I practically skipped all the way to the yukata store from sheer excitement.
The building was modern and unassuming, with the only indication that we were in the right spot being girls dressed in yukatas going in and out of the entry area. We had already been warned that the process would take about an hour, but it became real when we walked in, took our shoes off, and then were offered a bag to carry our shoes around in; I immediately thought, oh man, we are going to be here awhile. Natasha, the only other brave soul to experience getting dressed up, and I were then ushered to the second floor for our first step: picking your yukata.
Choosing a yukata is not as easy as it may sound. If you are an indecisive person, I recommend you never go through this experience. With all the elaborate, colorful, and diverse patterns available, it was excruciating having to pick only one robe. Then, after choosing a robe, we had to pick a sash, then shoes, then a purse, and then a rope belt. My head was swimming from all the decisions and options. Natasha was having an equally difficult time, and we relied on each other and the women working there to come to our conclusions. After about 45 minutes of second-guessing, we made our final decisions and were ushered to the fourth floor for our dressing.
July 17, 2014
July 23, 2013
July 22, 2013
July 19, 2013
July 5, 2012
June 28, 2012
June 27, 2012
June 26, 2012
Older Posts »