July 5, 2012
By Diana Yan
One of the most fascinating experiences in Japan was getting to see and experience so many of my favorite buildings. As an architecture student I spend a lot of time looking at photos and floor plans of the famous buildings but in Tokyo I had the chance to walk through and experience many of buildings I could only previously stare at photos of.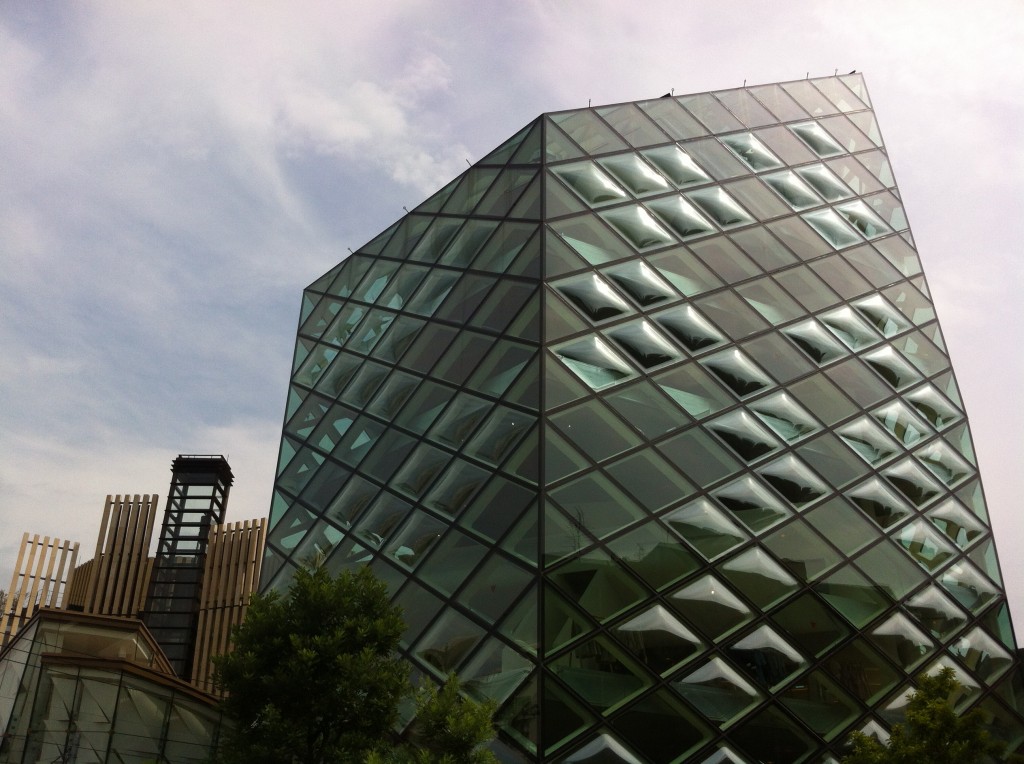 The first building I knew I wanted to see was the Prada store by Herzon and DeMeuron. It was one of my favorite buildings that I learned about in class. On our last day in Tokyo, Kevin and I made a quick stop to stroll around. It was quite the experience.
We went to the roof of the neighboring building to see this view. You can kind of see the inside since we couldn't get any photos inside.
There was so much to see in Tokyo. Tokyo is so dense with fascinating architecture that I stumbled upon these other buildings.
By Kevin Leong
The day after our Hiroshima trip was completely free. Unfortunately, the good weather from that day didn't carry over and it started to rain again. Our group did many things, such as shop around our hotel/Kyoto Station area, visited Himeji Castle/Himeji Zoo, or head down to Osaka. I spent my day in Osaka. The Osaka Station is also a huge mall, and at the top of the south building there is a Pokemon Center, where we all relived our childhood.
From there, a few of us went to the Osaka Aquarium, and the rest went to Dotonbori. This area is known for its wide variety of restaurants and a lot of shopping. We got a lot of souvenir shopping done in Osaka, even though it wouldn't stop raining all day.
By Alex Karpos
Another group of us decided to visit Himeji Castle on our free day. After a fairly long train ride, we arrived in Himeji, a city to the south west of Kyoto. Though the city was drenched in seemingly never-ending torrential rain, we decided to slog through the downpour. It was a decision we would not regret. Himeji Castle is truly an astounding complex. Last updated an astounding 400 years ago, this structure is considered the prototypical model for the medieval Japanese castle. The castle is surrounded by a truly amazing complex consisting of several walls, guardhouses, and open lawns surrounding the castle. Though the main, and most recognizable, tower of the castle is under restoration and thus covered from outside elements, this proved to be a blessing in disguise.