By Tanya Yang
When many people think about Japanese fashion, they immediately picture the lolita, Harajuku-esque style of dress — poofy skirts, hyper-feminine clothing, over-the-top cutesy accessories, and equally showy grooming. While I did see a fair share of such fashion in Harajuku's famous Takeshita Street, this style of fashion is but a narrow – and definitely not representative – glimpse into the world of Japanese fashion. Before coming to Japan, I'd spent a decent amount of time exploring  Japanese street style blogs and following the work and collections of several prominent Japanese fashion designers, including Yohji Yamamoto, Rei Kawakubo (of Comme des Garcons), and Issey Miyake. Of them all, Yohji Yamamoto piqued my interest the most and helped shaped the lens through which I observed clothing during my time in Japan.
What drew me to Yohji was that despite his global renown and presence in the fashion world, he consistently embodied certain uniquely Japanese aspects within his work. Best known for monochromatic, drapey, androgynous, and often avant-garde clothing, he once stated, "I think perfection is ugly. Somewhere in the things humans make, I want to see scars, failure, disorder, distortion." His sentiments fall in line with the philosophy/aesthetic of wabi-sabi, or the beauty and acceptance of imperfection, among other things. Furthermore, many of Yohji's designs seek to deconstruct or stray away from the typical image of femininity (e.g., emphasizing an A-line or shapeless silhouette as opposed to the typical hourglass). Focusing on timeless elegance over trends, Yohji has remarked that "It meant something to me – the idea of a coat guarding and hiding a woman's body. For me, a woman who is absorbed in her work, who does not care about gaining one's favor, strong yet subtle at the same time, is essentially more seductive. The more she hides and abandons her femininity, the more it emerges from the very heart of her existence."
With this context in mind as we explored Tokyo, I immediately noticed that women in Japan, in general, dressed more conservatively than their American counterparts. Longer hemlines, higher necklines, more neutral colors overall and rarely any exposed shoulders in spite of the high heat and humidity. While some might have deemed their clothing boring or even matronly, I found it fascinating to observe how they worked around these "restrictions" with layers, varied textures, drape, and the occasional interesting detail. A large majority of girls around college age still dressed very femininely and trendily, in styles that would be deemed "twee" or cutesy in the US, but I found it refreshing that a lot of females I spotted on the street sported monochromatic, more shapeless garb. Moreover, I enjoyed seeing male fashion manifest itself in ways that would be deemed unmanly in the US – bags, clutches, bucket hats, and shorter shorts. Also, the prevalence of male white-collar workers in Japan has spawned a whole population of sharply-dressed elderly men, a trend I enjoyed observing (and something the US seems to be sorely lacking).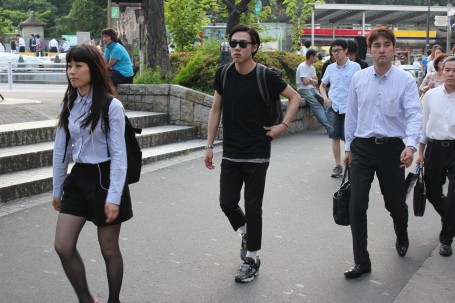 All in all, I came to Japan with only a surface level understanding of certain fashion subcultures and designers, and having no idea of what to expect the average layperson to wear. Several aspects surprised me, such as the degree of conservatism, but what I enjoyed the most was seeing how some of the overarching elements of Japanese philosophy and culture trickled their way into day-to-day fashion within this homogeneous country.