By: Vincent Bertoni
Because we started yesterday (our trip to Hiroshima) so early, I wanted to get a good rest and sleep late today. So, by the time I'd gotten up, everyone else had already checked out of their rooms and started exploring Kyoto. I heard from Matt, an alumni of the program, that there are plenty of bike rental shops around Kyoto station, so I decided to give my feet a rest and bike everywhere today. After paying for the one-day rental and stocking up on water, I used the simplified tourist maps to proceed to get completely lost only minutes after setting out. It's not that the maps were wrong per-se, but they omitted some very important details (read: roads) that meant that if I ever got off of the map, it was nearly impossible to find my way back onto it. I ended up navigating using Google maps for the whole day, only consulting the map to make use of its extensive bicycle parking directory.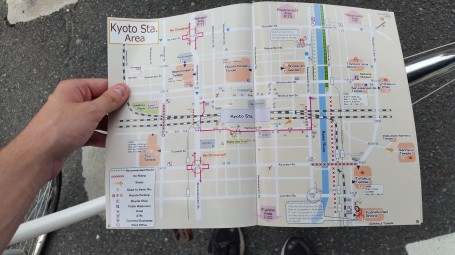 The first place I visited was Fushimi Inari-taisha (the shrine of one thousand torii). The entrance and main shrine were magnificent, but packed with people, making it hard to take in the calm majesty of the torii, each of which was donated to the temple as thanks for its donor's business success.
As soon as I could, I took a side path that jutted off from the main avenue of people, leading to a secluded and almost abandoned trail up the East side of mount Inari. It didn't have the titular torii of the main trail, but the calm quiet of the bamboo forests and intricately detailed shrines offered something else, a bit of peace from the bustle of the cities I'd been living in for the past two weeks. Almost every one of these was equipped with an unmanned store at the front (this being Japan, they weren't worried about anyone stealing anything). At one, I think I may have arrived during the middle of a prayer or ceremony, based on the faint chanting and "do not enter" sign placed halfway along the walkway. Eventually, after many gratuitously expensive vending machines and quad-destroying switchbacks, my trail joined back with the trail of torii towards the summit. It seemed very few people were committed to reaching the top,  so it was just as empty as the backwoods trail had been. There weren't any spectacular views (at least not from the summit), but the shrines (and accompanying gift shops) at the highest point were magnificent and worth the trip. On the way back down, I took the main trail and experienced the conventional Fushimi Inari-taisha experience, but backwards. Instead of gradually escaping the crowds and seeing the torii in their uninterrupted beauty, I progressed further into the crowds and aggressive shop owners as I traveled back down the mountain. Overall, I see this as an situation where I tried to avoid the well-beaten path, and got rewarded with some unique experiences for my troubles.
Back on my bike, I traveled to Yasaka shrine, where I ate at a restaurant that only serves one order, a course of the most delicious tofu I've ever eaten in my entire life. Three different styles of tofu came together to form a complete flavor experience, complete with sweetness, savoriness, and richness, all from tofu! After that, I was planning on biking along the Philosopher's Walk (a secluded riverside path lined with cherry trees), but I was waylaid by cats from a local cat cafe. They were way friendlier than I'd experienced from other cat-cafe cats (even when they're on the clock!). By this point, I was already pushing it in terms of getting back to our hotel by the scheduled meeting time, so I wasn't able to take any more pictures in my mad dash back to central Kyoto. In the end, between visiting shrines and other tourist hotspots, as well as biking through the streets and narrow alleys of Kyoto, I feel that I got a good mix of both the tourist and local experiences in Kyoto.