By: Rubi
After a great weekend exploring Tokyo with the crew, we finally got to meet all of the Meiji students! Thanks to my wonderful West Coast jet lag, I woke up around 6:45am despite having gone to sleep only a few hours earlier around 1am, after karaoke. For some inexplicable reason, I thought it could be a good idea to run around the Imperial Palace despite my obvious dehydration. The loop happens to be a 5k and is filled with great scenery – and other runners. Unfortunately, I managed to get lost in Otemachi and the run took me almost an hour.
Nevertheless, I quickly got my things together to get downstairs on time and we walked to Meiji from the hotel. We were formally greeted by two Japanese hosts and a university professor. We got our packets with info about the campus, the students, and most importantly, instructions on how to connect to WiFi.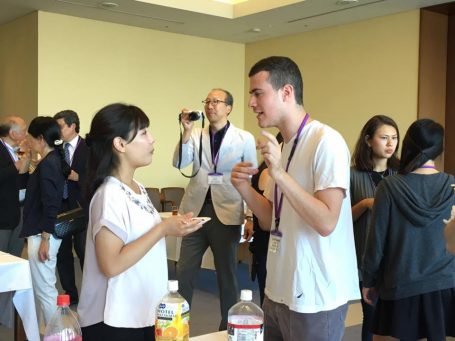 We moved to a bigger room with all the Meiji students. We exchanged excited greetings but were quickly quieted for welcoming speeches by some professors and the dean of the political sciences college. In fact, there was a finance professor educated at the "other" school in Los Angeles… I wasn't sure whether to be enthusiastic or disappointed. Prof. Kurashige also gave a speech, which included an interesting love story between a Meiji student and USC student…I wonder who they were??? After a round of applause, it was a mad dash to the banquet as everyone was starving. A variety of Western and Japanese food was served, and my favorite was the salmon.
The Meiji students were so excited to meet us and everyone had a diverse background or hometown. Many of them studied abroad in the US before. After chatting and exchanging some jokes we did some icebreakers. Writing down things in common with people we had never met, let alone people that were from a different country, was very hard. In the end we came up with liking tonkotsu broth the best, cup over cone, dark chocolate over milk chocolate, and tea over coffee.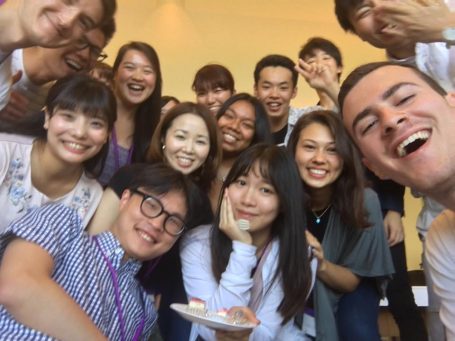 Afterwards, we went on a tour of Meiji and they showed us the bookstore (basically a konbini on steroids) and two restaurants: Marukamen, a well-known udon shop, and Echiopia, a curry shop. They told us that Jimbocho was famous for its many renditions of Indian curry. Some time around there, we also found an avocado cafe.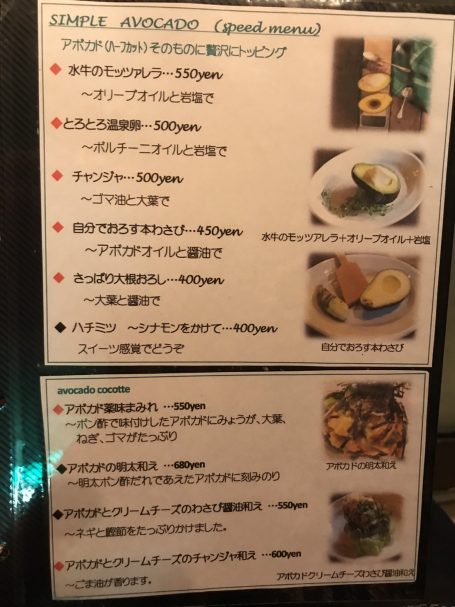 We decided to head back to the hotel after that – we were tired and sleep deprived. We were not far from the hotel, so it only took a few minutes to get back. After this, we realized we should probably get dinner. We asked the front desk for some recommendations, and were given three. We decided to go to the one that wasn't "Kyushu" style since someone had apparently not liked that. On arrival, we thought that because everything was in English, it couldn't have possible been good (assuming too much?). Thus, we decided to check Marukamen since the Udon shop was in walking distance. There was a line outside, but two minutes later we were forced to decide what to order and were thrust into the restaurant. Ordering was not difficult, but we didn't realize we had to order everything at once. The waiter got mildly annoyed that we ordered a few drinks and tempura at the table. I had a feeling they wanted us to eat quickly and leave. Everything was out of this world and when we walked outside, a line of 20+ people had formed, no wonder.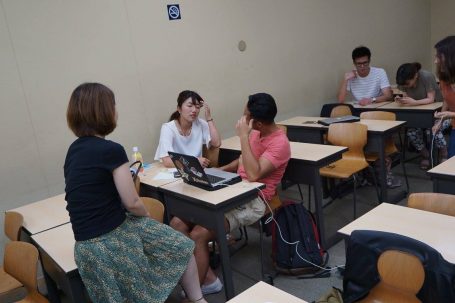 Later on we met with our research groups. After exchanging some omiyage, we got right into it, and we all explained our presentations and topics. We interviewed them briefly and I was able to get some good info from Makoto, who was helping me out today. It was a fun evening, and somehow, yet again, we decided to eat. This time, 300 yen Doria. It's similar to risotto, but more filling and cheesy. After saying goodbye to the Meiji students, we called it a night to prep for our free time the following day. Successful I would say.