July 23, 2013
By Jairo Hernandez
Gray, foreboding, and cloudy skies welcomed our group to the Peace Memorial Museum and Park in Hiroshima. After a rather quick guide through the museum, we were sitting in a room, listening to the chairman of the museum talk about world peace.
A world without nuclear weapons. That is the desire of the survivors of the atomic bombing of Hiroshima. No revenge, no atonement. They just want a simple promise. World peace is no easy feat, and they realize that. Years, decades, or generations, no one knows how long it will take, but the survivors just want a promise: avid work from now until a time where a world without nuclear weapons is established. Our current security measure of giving threats is no real security measure and can cave in at any moment. Thus these surviving members just want a world with a security measure that revolves around peace and understanding, not fear and threats. This is their message and the message the chairman wants spread throughout the museum.
This trip had a great impact on me. The rainy skies and gloomy weather reflected my state of mind as I walked out of the room and museum, deep in thought and reflection. However, just as you exit the museum, there is a memorial park with three significant structures that also reflected my state of being in a more concrete manner.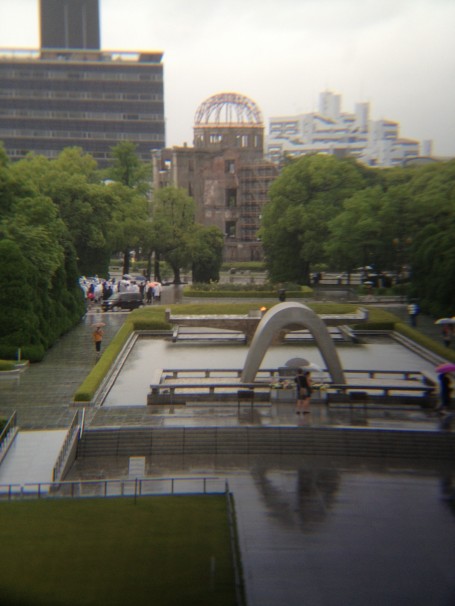 July 22, 2013
July 19, 2013
July 16, 2013
July 2, 2013
July 1, 2013
June 28, 2013
June 25, 2013
« Newer Posts
—
Older Posts »