July 30, 2012
By Jennie Lee
Last week, we went to the National Museum of Contemporary Art. Compared to the National Museum of Korea, which we visited our first week, the tour we received this time was very short and incomplete. We only viewed some works in the photography collection, but I enjoyed it nonetheless. The exhibition was on Images of Silence and its four themes were: desolate landscapes, space of absence, absence of communication, and death—eternal silence. As we went through the gallery, the more dark and eerie the subjects of the photographs became. In a way, these photographs of silence seemed to be a reminder of how Korea has constantly been silenced during the past century of colonization, intervention, and dictatorial rule.
To start off this week, our last week in Korea, we visited the N Seoul Tower. Used as a communication and observation tower, it is located at Namsan, or South Mountain, in Seoul. It is commonly know as the Namsan Tower or simply Seoul Tower. When we arrived, I was surprised to see a banner over the entrance saying that the Tower was voted the #1 tourist attraction in Seoul. It led me wonder why it was and made me anticipate the tour even more.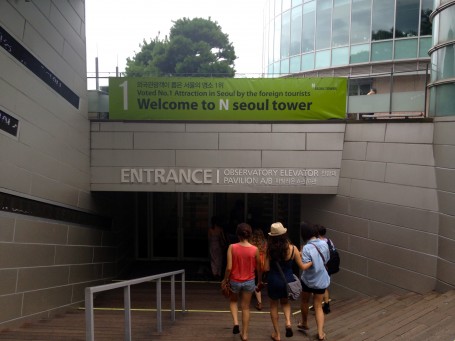 We took an elevator up to the observation deck. Instead of focusing on the view of the Seoul landscape outside the windows lining the walls, I could not help but be distracted by the gift shop flagrantly in the middle of the deck. Next to it there was a postcard station to write postcards and send them in a mailbox. On another floor there was a cosmetics shop, and on the ground floor, there was another gift shop, which even sold K-pop goods.
July 24, 2012
July 23, 2012
July 20, 2012
July 11, 2012
July 10, 2012