June 1st we leave for Brasilia.  This will be the fifth group of students that I am bringing to Brazil for a field school in ethnographic methods and a medical anthropological view into Spiritist healing and cosmology.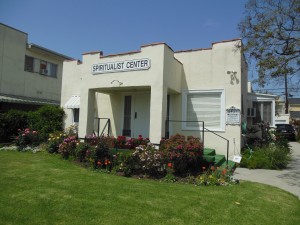 Spiritualist Church in Hollywood
We had our first foray into the field last Sunday at the Spiritualist Church.  This church meets in a small house in an urban neighborhood in Hollywood.  In this center several mediums channel spirits "from the other side" who give advice to family members, friends and others.  Students were given the opportunity to practice participant observation.  In the tiny living room they sat interspersed with the congregation to talk to visitors, to sing hymns accompanied by organ music, and to receive a community healing before the spirits addressed individual "yes" and "no" questions that were placed in a wicker basket before the mediums.  Participation brings up cognitive dissonance for those of different faiths.  Anthropology prides itself in understanding another culture from the inside out, but what if participation in another religion is offensive to the anthropologist?  Ethical dilemmas are common in the field when researchers are asked to temporarily suspend judgment in order to thoroughly understand the perspective of the "other" from their perspective.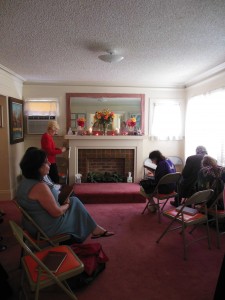 Inside the church, folding chairs face the fireplace area of the living room where flowers and candles rest on the mantel to form an alter
As we move from Hollywood to the centers in Brazil where physical surgeries are performed by spirit doctors through mediums in trance without the aid of anesthesia or analgesics, we are sure to question our own understandings of reality.
All pictures by Erin Moore.