By: Ryan Lesniewski
Last summer I was enjoying the cool ocean breeze while doing my graduate research on Catalina Island, but now the air conditioning in my car will have to suffice. This summer I'm a WIES Sonosky Fellow, and I drive 20 miles east of LA to a research facility in Irwindale, CA for my research.
It's quite a different environment here in the urban jungle compared to a more natural setting like Catalina, but lately I've been focusing on how biological processes might be able to help Los Angeles become more sustainable. At the Irwindale facility that is part of Dr. Ken Nealson's lab, we are developing technologies that can potentially reclaim value from our city's enormous amount of uneaten food. Some of our projects include preventing food waste spoilage, extracting valuable organic compounds, cultivating insect larvae from food waste, and producing organic fertilizers.
We use microbes and insects to do most of the heavy lifting. Given the right conditions, specific types of microorganisms help convert the organics in food waste into compounds that help prevent further breakdown. This is actually a good thing, since we feed it to a hungry insect called the black soldier fly (BSF). The BSF larvae are able to live and grow quite happily off of this food waste.
My specific project has been to track nutrients through this process and determine which products would make a good fertilizer. After some testing and modifications, I grow lettuce using the experimental fertilizer treatments to evaluate its performance. Together, these technologies are able to create value out of things that were once destined for the landfill.
This is one part of the solution. Teaching people how to be more sustainable in their everyday lives is the other part.
Aside from my research, this summer I've helped install two aquaponic systems at a local high school and a women's shelter. Aquaponics uses fish waste and microbial communities to grow fruits and vegetables. This method uses less water and is more space-efficient compared to conventional farming. The school I am working with is on track to open one of the first student-run farmers markets from food grown on the high school campus!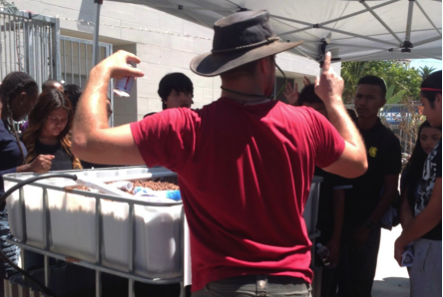 Providing these systems exposes kids, teachers, and the community to methods for growing healthy food in small spaces with less water. If we really want to change the way our city works, we have to educate all ages on why it's important, and what they can do to help. We have a lot of brilliant and open minds here in LA, and I think we have what it takes to close the loop in our food system. I'm really happy to do my part to help get it started.