By Karen Pham
June 6 – Back in Shanghai
After our exciting trips to Guangzhou, Shenzhen, and Beijing, it was time to go back to our home in Shanghai. I started off the day with a morning jog and then met up with my respective partner, Thomas, to work on our assignment 3 together. After a successful hour and a half of thesis production, we met up with Jim to grab a quick lunch. I decided to try out one of the yummy streets snacks on the Pedestrian Street near our classroom. I settled on a Shou Zhua Bing (手抓并), or a "Hand-grabbed Pancake," a famous street snack known to have originated in Taiwan.
The snack itself reminded me of a breakfast burrito. I watched as the lady fried the onion pancake to a crispy golden brown and then slit and twisted the pancake only to fry it a little more for a crispier crunch. She laid on a combination of bacon, fried egg, pork sung, cheese, and delicious sauces, and then wrapped it up in a burrito format for easy-eating. It was delicious, and I soon became a fan. After satisfying my meal with a drink from Coco, our group headed back to finish up our assignments. We later met up with the rest of the class for our crazy adventure to the Super Brand Mall to eat a hearty dinner at a famous restaurant chain known for its voluptuous women and hot wings. To our delight, the Professor joined the group after a cordial invitation from our fellow classmate, Logan. We walked into the restaurant greeted by some lovely waitresses and Britney Spears songs blasting in the background. It was a great meal, filled with lots of laughter and fun moments. The wings were not the best, kind of bland, but the memories of the night were sweet, as it became apparent that our group had grown close enough to talk about having a reunion in Macon, Georgia, 10 years from now.
June 7 – In the Classroom
While our trips outside of Shanghai were a nice break from the regular class schedule, we did not forget our purposes for visiting those areas. And so we began the first class back from those trips with our presentations on our findings about the depth of China's globalization. From the class presentations, we were able to examine ways in which countries are unequally represented in Windows of the World, how restaurants, places, and stores are "sold" to consumers, how Chinese advertisements appeal to their respective audiences and how these advertisements differ from those implemented in the early 20th century, how the information provided in Chinese museums may limit our understanding of China's relationship with opium, how international relations hinder or facilitate progress in China's consumer culture, what kind of image a country like China tries to project onto its consumers and how the Chinese want to be perceived, as well as the creation of a global brand in the selling of "Mao-branded" products. Following our presentations, Professor Sheehan continued his lecture on China's historical context from the 1940s, and we ended class with discussion from our findings in the readings.
Lunch: The class ventured off into the Pedestrian Street once again. Cynthia somehow successfully convinced half of the group to try one of our favorite streets snacks, perhaps my favorite during my time in China—Rou Jia Mo (肉夹馍), a Chinese sandwich stuffed with the most tasty meat and vegetable mix, sometimes served with fried egg. The weather was muggy and humid, and the snack itself was hot and steamy, but that did not stop us from bringing business to the local stand owner. We waited patiently and watched him power through our multiple orders of their yummy snack. After satisfying our hunger, the group walked back to the hotel and relaxed before meeting up for our group trip to the Oriental Pearl Tower.
At the Oriental Pearl Tower: We ascended the Tower and found a breathtaking view of downtown Shanghai.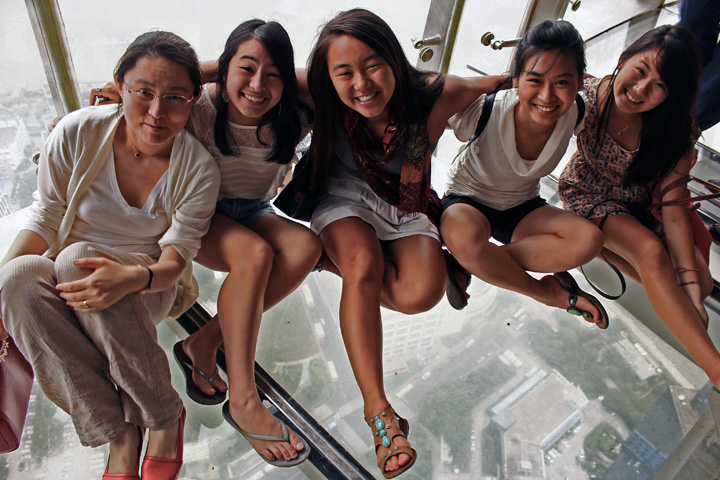 Many of us were in search of the "perfect picture" during our excursion, for the glass panels translated to backlit photos. After many attempts, I was able to find an angle that allowed natural light to nicely illuminate the photo frame, thus, making a perfect ending to our glorious photo shoot as it was time for the group to go to the Shanghai museum on the bottom floor. Snapping away, we saw dioramas of different store fronts and modes of vehicles framing the history of Shanghai and the evolution of Bund. Some included holograms and looped tapes. The museum exhibit ended with miniature models showing the different types of houses and the architectural style residents may have lived in. Soon after, we walked across the street for our last group dinner with David at a fancy lake side restaurant. We ate to our heart's content and walked along the lake side to take scenic shots of the Bund. A couple of us stayed after to explore the area and grab some Dairy Queen before catching the subway back to the University.
June 8 – In the Classroom
We started off the class with a continuation of lecture on Chinese history post-1940s as well as some Shanghai city history, and then delved into a discussion on Chinese propaganda films and the Good Eighth Company. We examined the ways in which Shanghai had geographically developed in terms of the placement of the foreign concessions and displacement of local Shanghainese people from the city center to the outer rims of Shanghai. I found it interesting as to why we were so far away from the city center, but it was interesting to learn that the Chinese had planned to build a city center in our current location until they were free to go back to the original city center, which resulted in an abandonment of plans for development in the Yangpu area.
After class, the group decided to split up for lunch once again on the Pedestrian Street. I came back to campus for an afternoon run and then headed off to meet a part of the group at Yu Yuan Gardens.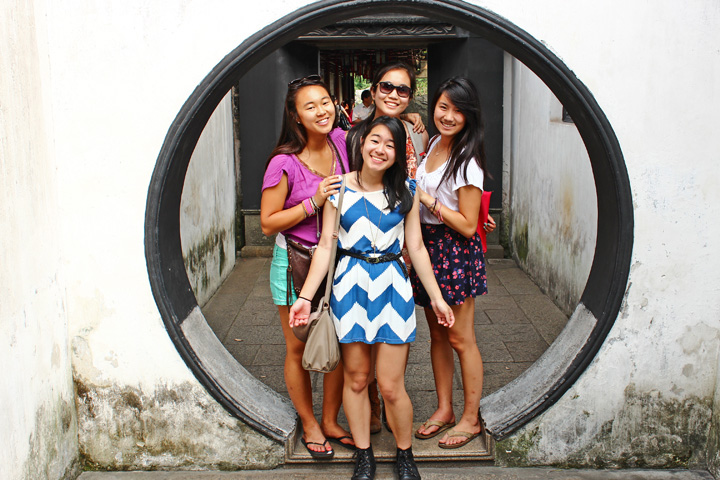 The place is much smaller than the Humble Administrator's Garden in Suzhou, but it was still very pretty. We walked around taking our scenic shots and taking breaks throughout various parts of the garden. During one of our conversations, we founded our group's boy band, "Jim Becker (not pictured) and M4 feat. Brian Barkeley (not pictured)," based on the photo below. I am quite proud of the angling in this shot.
Afterwards, we walked around the shopping area outside of the garden and split up to find dinner. Janet, Joe, Logan, Thomas, and I ate a family-style meal at a local Chinese restaurant for approximately 20 RMB per person. Quite a steal. We ended up going back to the hotel after a quick stop at a local convenient store and relaxed until the night's festivities. We went to the French Concession to explore the nightlife and found a place for some cheap snacks and drinks.
June 9
Saturday morning was quite peaceful as everyone decided to take advantage of a free Saturday to sleep in. A part of the group went to grab lunch at a local restaurant on the Pedestrian Street. Janet and I went to grab a street snack and pick up our laundry. On the way, we stopped by the university gymnasium to enjoy the air conditioning and watch the college badminton tournament. It was an interesting sight to see. The fan seats for the different schools were split up into different sections of the stands, decorated with the representing school's banner.  Each of the school's participants and its associates were wearing the same colored polo shirt for what seemed as their form of school spirit. After picking up our laundry, we went back to the hotel for an afternoon's rest. Many of our group members decided to have a peaceful day in, either catching up on sleep or working on our next assignment. The group later met up for a dinner and night out in the French Concession. Many went to watch the Netherlands vs. Denmark Euro Cup match at Windows Scoreboard, while a couple of others took a cab ride to explore the nightlife at M2.