June 24, 2016
By: Kenny Bolster
The summer is starting to get into full swing at the Wrigley Institute. I got out here 5 days ago, and it seems like everybody else showed up at about the same time.
The dining hall's been packed this weekend. On top of the Wrigley staff and researchers, there's also a scientific dive class, an environmental microbiology class, the USC family science program, this year's REU class, as well as the graduate students who received summer funding as WIES Summer Fellows (including yours truly). With all these people, we've been staying busy. I went snorkeling 3 days in a row with different groups, and saw all kinds of cool stuff. There were these little red swimming crabs that showed up this year, probably as a result of last spring's El Niño. They were entertaining to watch. I also saw a California Moray Eel, which I've never seen in the wild before.
Research wise, the lab has kept me busy. My own research project focuses on the biogeochemical cycles of iron in Big Fisherman's Cove. The biggest challenge with researching iron is that it is very easy to contaminate your samples. Even a tiny amount of dust getting into a bottle can ruin an experiment. That's why I had to do a lot of cleaning in my lab space when I first showed up. Fortunately, it's now all ready to go, and I'm ready to get started doing my experiments.
I've been reminded a lot about why this place is such a great location to work. The places where I eat, sleep, and work are only a few hundred feet from each other. We wind up working more than typical workdays without really feeling like it, because the boundaries between work and personal life are so blurry. The friends we hang out with in the evening are the same people who were in the lab with us this morning. A block of working from 9 to 5 is something we just don't do. We can leave work at 2 and go for a hike, and then come back to the lab at 8 PM. We are spending our summer in an environment surrounded by natural beauty, with ample opportunities for relaxation and recreation, with almost complete flexibility in how we do our research. Is it any wonder that so much stuff gets done out here?
The time out here is going to fly like crazy. Working here is going to be a blast. Who needs summer vacation?
 Kenny is a WIES Summer Fellow and a graduate student in the laboratory of Dr. Jim Moffett at USC. His summer research is 'Detection of Ferrous Iron in Marine Surface Waters in the Presence of Photochemically Generated Interferences'
April 27, 2016
By: Chris Asmussen
I was unsure what to expect when I registered for a two-unit Environmental Studies course on Catalina Island. I asked myself, would there be a lot of hard science involved? If there's anything I've learned in my academic experience thus far it is that hard science and I haven't the best of relationships. Give me books and complex ideas about the world and I'll provide you a philosophical treatise; put me in a lab and my face will be reminiscent to that of a child lost in Disneyland. However, I could not pass up the opportunity to learn about a subject as critical as sustainable food production in a place as beautiful as Catalina Island. Spring Break Catalina was a go, and what an experience it was.
We departed San Pedro with a small class totaling four students, which gave the class an intimate group discussion dynamic throughout the course as well as the freedom to explore the Wrigley Institute's surrounding areas. The small group setting allowed for open conversation about the day's topic and gave everyone ample opportunity to participate, a privilege which is often limited in typical classroom settings. The close proximity of everything on the campus, from dorms to classrooms to set meal times, allowed us to get to know each other as well as other students visiting the campus for various reasons. As a result of these circumstances coupled with the beautiful setting, the learning environment for such a course couldn't have been better.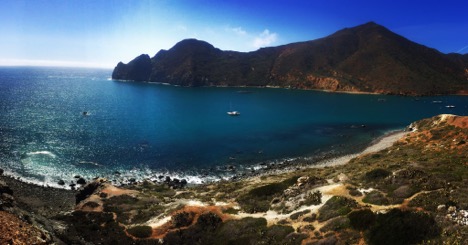 Which brings me to the course material itself, the actual "work" that had to be accomplished in this short week away from home. It was fascinating to learn about aquaponics and have the opportunity to get hands on experience with Wrigley's aquaponics system in order to thoroughly explore how everything works. The idea that plants can grow without soil, roots hanging in water, still seems slightly hard to believe. On top of understanding how the system operates (even getting to build a simulated system ourselves), I found learning the chemistry, both in lecture and in lab, to be more interesting than I can remember in my other experiences with hard science. I suppose the reason for that is because I know that the work I am doing is being directly applied to this functioning aquaponics system a few feet away, and that the work is contributing to some body of research which is important for the further development of this unique method of food production.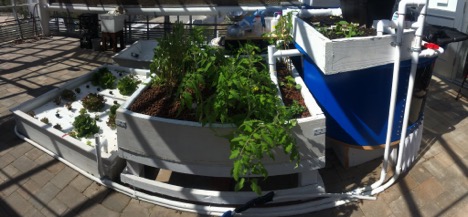 Beyond the aquaponics system itself, the course also investigated food issues more broadly in their relationship to social science discourses such as environmentalism, economics, international relations, sociology, and so on. Given that I am an international relations major, I enjoyed contributing to the course through my expertise on matters related to social science, an area that other students were less familiar with. I took advantage of the case study I was assigned to examine issues of food sovereignty and food security, which are increasingly important matters in a world of large-scale agribusiness and a globalized marketplace. Other students used their interests, from business to environmental engineering to biophysics and game design, to inform their case study in an overall wide-ranging discussion of all things food-related. Furthermore, the opportunity to speak with the director of Community Services Unlimited, Neelam Sharma, about the work her organization is doing to provide access to nutritional food in poor, South Los Angeles communities was both insightful and inspiring. Overall, the learning experience was vast, covering numerous aspects of the multifaceted subject of sustainable food production, and I was appreciative of that.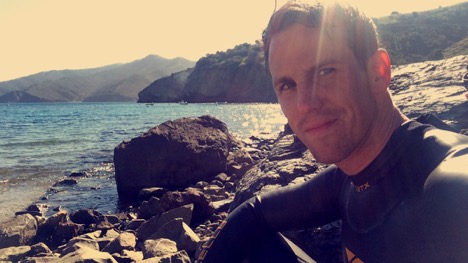 But work cannot take place all day and night, or at least it shouldn't. We took full advantage of our beautiful Catalina Island setting to play in the water and on the trails. By that I mean kayaking, snorkeling, and hiking, pretty much every day. Considering that I was also in the middle of triathlon training, I was also had the opportunity to do longer swims out to Two Harbors in those crystal clear waters and run for miles on trails that overlook huge portions of the island and the deep blues of the vast Pacific Ocean. Given all of these experiences, from a fascinating education, great instructor, small group dynamics, and exploring the natural beauty that surrounded us, I'd say this two-unit Environmental Studies course was a rather great decision.
Chris Asmussen is a USC International Relations major who participated in the Wrigley Institute's 2016 course: "Alternative Spring Break, ENST 499 in Catalina Island: Science of Sustainable Food"
Older Posts »