By: Yubin Raut
Hey all. I am Yubin Raut from the Capone lab and this summer I had the incredible opportunity to do research at the Wrigley Marine Science Center (WMSC) on Catalina Island as the 2016 Victoria J. Bertics Summer Fellow. In addition, I was able to develop my mentoring skills as I got the chance to work all summer long with two undergraduate students via the Research Experience for Undergraduates (REU) program. As I work in a lab that deals primarily with studying the Nitrogen cycle, specifically nitrogen fixation, my main focus this summer was investigating nitrogen fixation associated with the invasive macroalgae, Sargassum Horneri, more commonly known as the "devil weed".
Nitrogen fixation is the process of converting dintrogen gas into biologically available forms of nitrogen (i.e. ammonia) that can then be utilized by other organisms for biosynthesis of essential compounds for life (i.e. nucleotides for DNA and RNA, amino acids for proteins, etc.). The organisms responsible for this process are referred to as "diazotrophs" and consist of many different prokaryotes. The REUs and I spend many hours this summer working in shifts at all hours of the day injecting samples into a gas chromatograph to indirectly measure nitrogen fixation rates by Sargassum via a method known as the Acetylene Reduction Assay (ARA).
It was a research packed summer to say the least but being able to spend it on an island surrounded by the Pacific Ocean opened up venues to many adventures. Having the laboratory right on the waterfront of a Marine Protected Area enticed me to go swimming and snorkeling on a daily basis. Snorkeling expeditions led to glimpses of all sorts of creatures, the most notable of which was a giant seabass. On especially warm summer days or when things got too stressful with the research, the cold ocean was the perfect place to dive into to recharge myself.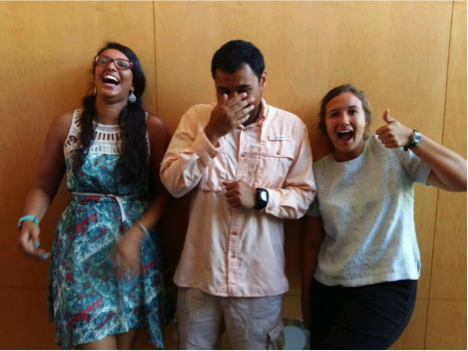 At the REU poster symposium where the two REUs (Camille (left) and Shannon (right)) presented their findings.
During time off from the research, I was also able to explore the island inwards (i.e. Little Harbor, Two Harbors, Avalon, etc.). In fact, I witnessed my first fireworks theatrics this summer during the 4th of July celebrations at Two Harbors and Avalon. On a night hike to Mt. Wrigley, I also caught sight of my first shooting star. There were also many hours spent in the common area gathered around the ping pong and pool tables. Some might say that if you were looking for me this summer, your best bet was to look in the lab and if I was not there, I was most likely trying to convince some poor soul to play ping pong with me.
It was an amazing summer and with fall semester well under way, I can definitely say I miss the island lifestyle.
Yubin is a PhD graduate student at USC, in the laboratory of Dr. Douglas Capone. His research focuses on investigations of nitrogen fixation on invasive alga Sargassum horneri and native giant kelp Macrosystis pyrifera.