As 2015 begins, it's the season for people to take stock of their past and start making plans for the exciting year ahead. Here at WIES, we are going through this process in spades. 2015 brings with it some big anniversaries – namely, the creation of our Catalina marine lab and the Wrigley Institute itself!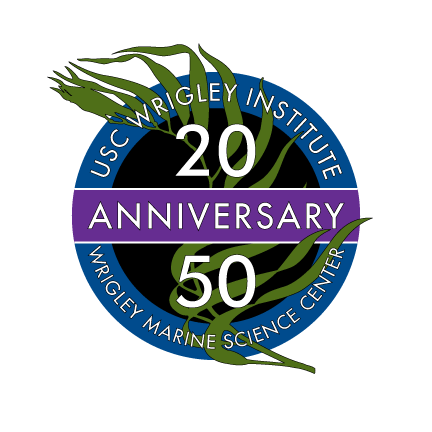 50th Anniversary of USC's Marine Center on Catalina
In 1965, USC initiated a new era of scientific research at the university with creation of the Marine Sciences Center on Catalina Island. Based on generous land gifts from the Wrigley and Offield families in Big Fisherman's Cove, the island campus provided an exciting and unique new asset for USC researchers and the broad science community.
By 1967 the first building was erected – our beloved marine laboratory, later to be known as the Phillip K. Wrigley Marine Science Center – and from that day forward environmental research in southern California was never the same.
20th Anniversary of the USC Wrigley Institute for Environmental Studies
In 1995, William and Julie Wrigley continued their family's legacy of conservation by providing USC the capital to initiate the USC Wrigley Institute for Environmental Studies. This generous gift created a new environmental hub on the USC campus focused on cutting edge research, graduate/undergraduate education, and public outreach.
Recognizing that Catalina Island may be one of the "last outposts of Southern California as nature made it", USC's marine center was re-dedicated as the crown jewel of this new internationally prominent environmental program (which was possibly the last time anyone's worn a business suit at the Catalina campus!)
Celebrate With Us!
2015 will be a yearlong opportunity to celebrate this exciting 50th/20th anniversary and showcase the many accomplishments our faculty, staff, students and alumni have made over the years. These successes are a tribute to the incredible people who've shared their passion, time and support with WIES over the decades. Keep an eye on our newsletters and social media as the year goes on. Also, feel free to drop us a line with thoughts or photos of special WIES memories you'd like to share.
Its an honor to be celebrating this year with you, the WIES family and friends who make it all possible. Thank you for contributing to our last 50 years of science and discovery, and here's to the next 50!

Source: http://assu.stanford.edu/new/pharmacy
http://assu.stanford.edu/new
Look at your search results. DO NOT CLICK THE LINKS! Source: http://gispopsci.org/buypharmacy
http://www.iftn.ie/news/online.php
http://www.cidac.org/eng/cont/publications/Pharmacy.php