By: Audrey Looby
Hello! My name is Audrey and I'm an undergraduate at USC, where I am majoring in Environmental Studies. I am also an active AAUS-USC Research Diver, and in addition to a regular course load, I have spent the last several months working with Prof. David Ginsburg from the Environmental Studies Program studying the marine ecology of Catalina Island.
This past summer, I participated in the USC Wrigley Institute's Research Experience for Undergraduates (REU) Program on Catalina Island, where I lived for 2 months  at the Wrigley Marine Science Center (WMSC) with 9 other REU Fellows. The  REU program provides research opportunities for undergraduates, as well as advice for applying to graduate school and career options for the future.
Over the course of the summer, I worked on several different research projects using my scientific diving skills to conduct underwater surveys and collections in the field. Each project focused on the ecology of marine organisms living within Big Fisherman's Cove, part of a protected coastal zone known as Blue Cavern State Marine Conservation Area adjacent to the WMSC labs.
For one of the projects, I examined the impacts of seawater discharge from WMSC's flow-through seawater system on subtidal marine organisms in Big Fisherman's Cove. As a marine protected area, discharge of any kind requires a special permit. To maintain this permit, a number of conditions must be met, ranging from rigorous water quality standards to surveys of marine life (my project!). A large amount of my time this summer was spent underwater where I surveyed fish, macroalgae, and invertebrates around the seawater discharge and reference sites.
In a second project, I helped update a catalogue of subtidal marine organisms found in the cove. By looking at the numbers and types of species found within Big Fisherman's Cove in the present day (my study!) and comparing them to past data from the last 50 years, much can be learned about the changing natural history of the marine protected area. For example, the presence of eelgrass meadows – a critical component of what is known as 'Essential Fish Habitat' – and their associated fauna were not documented until only about 20 years ago. Creating an up-to-date catalogue of organisms found in the cove is a benefit to both researchers working in this area, and the numerous educational programs run by the USC Wrigley Institute.
Other projects looked at the impacts of size-selective fishing on fishes that are sequential hermaphrodites (i.e., can change sex from male to female or vice versa); and the effects of macroalgal architecture (i.e. kelp forests) on kelp bass recruitment. Spending the summer contributing to these many projects on Catalina is not an experience I will forget anytime soon.
Now that the summer is over, I continue to work with Prof. David Ginsburg doing Directed Research to finalize an updated catalogue of subtidal marine organisms found in Big Fisherman's Cove. We plan to submit these data as part of a scholarly manuscript to be published in the Bulletin of the Southern California Academy of Sciences. As I make plans to graduate next year, I hope to use all of the wonderful things I've learned to work in research on ecology and marine protected area management in the future!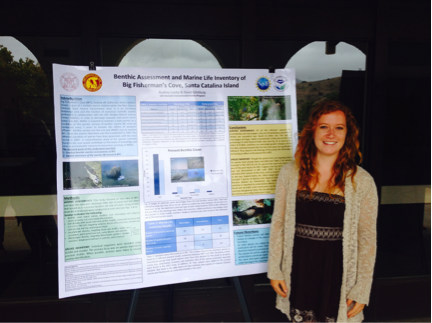 Audrey Looby will graduate in December 2016 with a BS in Environmental Studies.